Septoplasty Procedure done at World Class Hospitals in India.
Excellent Outcomes and Affordable Cost is assured.
Septoplasty Procedure done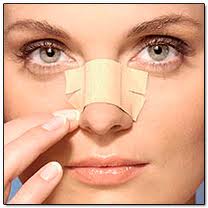 Septoplasty is a corrective surgical procedure done to straighten the nasal septum, the partition between the two nasal cavities. Septoplasty is sometimes done with rhinoplasty for cosmetic correction of the deformities of the external nasal framework. Septoplasty specifically changes and reconstructs the partition between the nostrils, or septum. Having a deviated septum, where the nasal partition is not straight, can make it difficult to breath. Septoplasty also corrects cleft defects like cleft lip and cleft palate.
Nasal surgery includes any surgery performed on the outside or inside of the nose. It is also a common type of reconstructive and cosmetic surgery whether it is used to improve breathing, correct differences that have been present since birth (congenital differences), change the shape and size of the nose, or repair injuries to the nose.
The nasal septum is the wall between the nostrils that separates the two nasal passages. It supports the nose and directs airflow. The septum is made of thin bone in the back and cartilage in the front. A deviated septum occurs when the cartilage or bone is not straight. A crooked septum can make breathing difficult. The condition also can lead to snoring and sleep apnea.
Septoplasty Procedure Description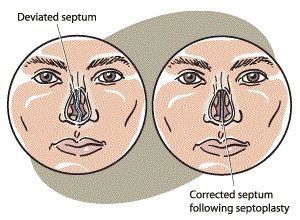 Before surgery, the doctor may use a thin, lighted instrument endoscope to look at the nasal passages and to see the shape of the septum. In some cases, the endoscope may be used during surgery. The patient is given local or general anesthesia for the 60- to 90-minute operation, which is usually done in an outpatient surgery center.
The procedure usually involves a realignment of a portion of the bone or cartilage in the nasal cavity. The septum and nasal passages are lined with a layer of soft tissue called the nasal mucosa. To repair the septum, the surgeon works through the nostrils, making an incision to separate the mucosa from the underlying cartilage and bone. The doctor trims or straightens the bent cartilage and then replaces the mucosa over the cartilage and bone. After the septum is straightened, it may then be stabilized temporarily with small plastic tubes, splints, or sutures internally.
Get Estimate
Difference between Septoplasty and Rhinoplasty
Septoplasty
1) Septoplasty, is a reconstructive procedure designed to improve nasal function from the inside.
2) If the patient has any damages in his septum, and want it corrected, Septoplasty is the procedure to get it done.
3) Septoplasty has a faster recovery and healing time.
Rhinoplasty
1) Rhinoplasty is a cosmetic plastic surgery procedure to change the shape and contour of the patient's nose.
2) But,if the patient's main reason is more of aesthetic, Rhinpolasty is the procedure to go for.
3) Whereas Rhinoplasty recovery takes up to several days before one can go out of the house and flaunt ones newly enhanced nose.
Get Estimate
FAQ regarding Septoplasty
Is sinus surgery a part of a Septoplasty procedure?
Sinuses are air-filled chambers inside the head that drain into the nose. Sinus surgery is typically not a required part of septoplasty. Sinusitis is infection of the sinuses which is typically caused by obstruction of the drain holes of the sinuses which causes fluid to build up inside them.
What is an endoscopic Septoplasty?
Septoplasty is often performed with the aid of fiberoptic nasal endoscopes that illuminate and magnify the nasal passages to allow more precise surgical technique.
Will Septoplasty cure snoring and sleep apnea?
Septoplasty can improve snoring by allowing easier breathing through the nose. When the septum is deviated it causes nasal obstruction and can force us breathe through our mouth which is more likely to result in snoring. Septoplasty does not always improve snoring or sleep apnea since these may be caused by obstruction at the level of the throat.Get Estimate
Is sinus surgery a part of a Septoplasty procedure?
Sinuses are air-filled chambers inside the head that drain into the nose. Sinus surgery is typically not a required part of septoplasty. Sinusitis is infection of the sinuses which is typically caused by obstruction of the drain holes of the sinuses which causes fluid to build up inside them.
Does Septoplasty change the appearance of the nose?
Septoplasty typically does not make any significant changes to the external appearance of the nose unless combined with rhinoplasty (septorhinoplasty). Septoplasty can at times improve nasal asymmetry.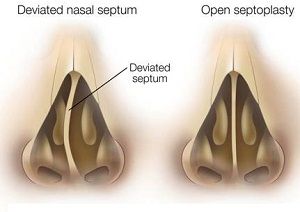 We Assure Most Affordable Estimates with in 48 Hours from Top Hospitals in India.
---
We help you get FREE Expert Opinion from Top Doctors at Best Hospitals in All Major Cities in India.
New Delhi
Mumbai
Bangalore
Hyderabad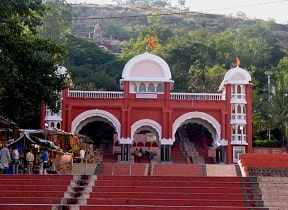 Pune
Mohali
What People say about us – Patient Experience

"I had so many apprehensions and concerns prior to coming to India for surgery that I needed badly to regain my health. "Thanks for your always prompt responses to my volley of questions and concerns. I could not have managed even a step without your staff's excellent care. I couldn't be happier with the Indian hospitals, surgeon, physicians and their expertise. Everyone is very professional yet compassionate. All staff nurses and doctors are very attentive. My stay during treatment in India was very comfortable.
Thanks you all and God bless you !"
Ms. Janet Biuware From Cameroon.
Frequently Asked Questions
Once you have decided that you want to get treatment in India you can email us your latest medical reports and accompanying X-Rays, MRI Scans and other relevant medical documents at [email protected] or Call or WhatsApp us on +91-9899993637 for one to one discussion with our executives.
Once we receive your reports, we will get them reviewed by our medical experts and will send you a detailed treatment package consisting of doctor's diagnosis, treatment plan, cost of treatment, duration of stay in hospital and duration of stay in India besides other relevant details.
Once you have confirmed to us that you want to proceed further to get treatment in India, our team will help you with the Indian medical visa assistance and documentation process. We will also help you in arranging for a comfortable local stay for you and your attendant. You don't have to send any money in advance.
Savings can be from 30-50%, depending upon the procedure and the destination. Your treatment will be carried out from only the best hospitals in India that are NABH accredited and have specialists that are recognized globally for their expertise.
From the date you decide on one of the three affordable treatment packages offered to you. It may take 1- 3 weeks to obtain Medical Visa and book flight tickets. We have zero waiting period and you can be received at the Airport on arrival and immediately admitted at hospital and treatment will start.
Its advisable that you should not delay your treatment particularly in case of severe illnesses like Cancer, Heart or Spine etc. Early start of treatment results in quick recovery and lower expense compared to delay of treatment.
The difference in cost package due to the labour and insurance costs of the hospital operating in India, and not by the difference in the quality of treatment.
Each patient is assigned to a SafeMedTrip Patient Case Manager who will take care of every single detail ranging from arrival to send off.
Yes, of course. We will provide you with complete assistance in selecting high-quality hotels near the hospital location that fits your budget.
You will be given a complete profile of the specialist before you proceed for the treatment. On special request, we will be happy to connect you with him through a teleconferencing service facilitated by Skype.
Watch this Video
Benefit from our expertise of helping hundreds of foreign patients find top quality, affordable medical care in India.
---
Get Expert Opinion from India's Best Doctors.
WhatsApp Consult Now