Ovarian Cancer Treatment and Surgery from Best Cancer Hospitals in India
Excellent Outcomes and Affordable Cost is assured.
Ms. Jemila Abubakar From Nigeria shares her experience about Medical Treatment in India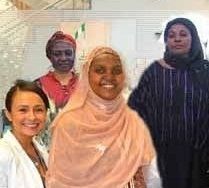 Thanks for your always prompt responses to my volley of questions and concerns. I could not have managed even a step without your staff's Excellent care. Couldn't be happier with the Indian hospital's Surgeon, physicians and their expertise. Very personable and professional. Would recommend to others.
All staff nurses and doctors are very attentive. Always available, kind and considerate. My stay during treatment in India was very comfortable. Will recommend for sure." Thanks you all and God bless you !

Request a Call Back
Why you should choose India for Affordable, World Class Ovarian Cancer Treatment

Globally Trained & Highly Experienced Ovarian Cancer Specialists – Benefit from the expertise of Ovarian Cancer Specialists who have worked at World's leading Ovarian Cancer hospitals for decades and follow most advanced cancer treatment protocols.

World's Lowest Cost Cancer Treatment Packages. Best quality Drugs, Medicines and Consumables for Ovarian Cancer Care are produced in India at lowest cost and exported all over the world.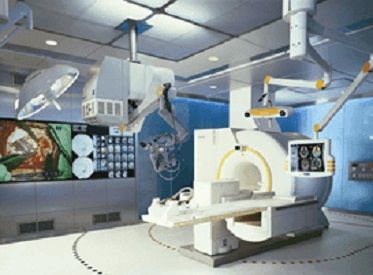 Complete Cancer Care with latest High-end technology infrastructure like Robotic Surgery System, Brain Suite, Novalis Radiosurgery TX, PET Scan, CyberKnife , Gamma Knife, IMRT and IGRT that help quick diagnosis and recovery.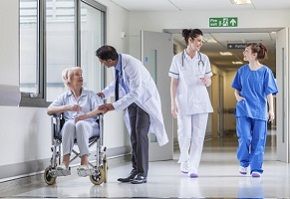 Well trained English speaking Doctors
, Nurses and Support Staff provide competent and compassionate Cancer care.
Get Estimate
---
What is Ovarian?
Ovarian cancer is often termed as a "Silent Killer" because its symptoms do not cause any alarm among the women until it has reached at an advance stage. Early detection of ovarian cancer offers a 90% cure rate. Sadly, lack of symptoms from this silent disease means that about 75% of ovarian cancer cases may spread to the abdomen area by the time they are detected.
Symptoms of Ovarian Cancer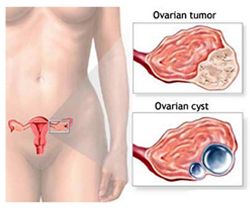 Symptoms of ovarian cancer are not specific to the disease, and they often mimic those of many other more-common conditions, including digestive and bladder problems.
When ovarian cancer symptoms are present, they tend to be persistent and worsen with time. Signs and symptoms of ovarian cancer may include:
Abdominal pressure, fullness, swelling or bloating
Pelvic discomfort or pain
Persistent indigestion, gas or nausea
Changes in bowel habits, such as constipation
Changes in bladder habits, including a frequent need to urinate
Loss of appetite or quickly feeling full
Increased abdominal girth or clothes fitting tighter around your waist
A persistent lack of energy
Low back pain

Get Estimate
Types of Ovarian Tumors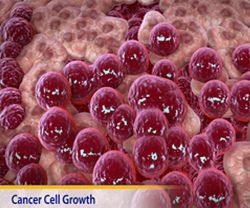 There are three main types of Ovarian Cancer :-
Epithelial Ovarian Tumors: Epithelial ovarian cancer is the most common type of ovarian cancer, accounting for up to 90% of epithelial ovarian cancers. Epithelial ovarian cancer is named after the epithelial cells that line the ovaries. This type of cancer originates in the epithelium.
Germ Cell: Ovarian Tumors are derived from the egg producing cells within the body of the ovary. This occurs primarily in children and teens and is rare compared to epithelial ovarian tumors.
Sex Cord Stromal Tumors: Stromal cord tumors begin in the connective tissue responsible for the production of estrogen and progesterone. This kind of tissue also holds the ovaries in place. Sex cord stromal tumors can affect women of any age.

Get Estimate
Diagnosis of Ovarian Cancer
Blood tests, including complete blood count (CBC), liver and kidney function test.
A pelvic exam is performed by the doctors checking the vagina, uterus, ovaries, bladder, and rectum for Endometrial Cancer (Uterine Cancer). An instrument called a speculum is used to widen the vagina so the doctor can see the upper portion of the vagina and the cervix.
The Pap Smear test is often performed during a pelvic exam. The doctor uses a wooden scraper (spatula) or small brush to collect a sample of cells from the cervix and upper vagina. The cells are then sent to a medical laboratory to be checked for abnormal changes.
A Biopsy may be needed for a definitive diagnosis where the surgeon performs a laparotomy and removes a sample of tissue. A pathologist examines the tissue to check for cancer cells, hyperplasia, or other conditions.
CA-125 assay (for Ovarian Cancer) is a blood test used to measure the level of CA-125, a tumor marker that is often found in higher-than-normal amounts in the blood of women with ovarian cancer.

Get Estimate
Treatment of Ovarian Cancer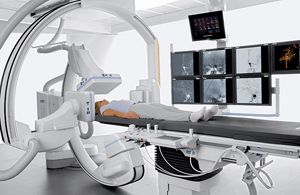 The main treatments for ovarian cancer are surgery, chemotherapy, and radiation therapy. In some cases two or even all of these treatments will be recommended.
Surgery for Ovarian Cancer: The surgeon may usually perform a Laparotomy (through an abdominal incision) or Laparoscopy Assisted Biopsy (Minimally Invasive procedure where a tube containing a light and camera is inserted into the pelvic cavity through a small incision).
A sample of the tumor is excised and examined immediately under a microscope to confirm ovarian cancer and rule out malignancy. Once ovarian cancer is confirmed, surgeon may decide to perform a suitable procedure like a Hysterectomy (removal of the uterus [womb], bilateral salpingo-oophorectomy (removal of the fallopian tubes and ovaries on both sides), omentectomy (removal of the fatty tissue that covers the bowels) or lymphadenectomy (removal of one or more lymph nodes).
Chemotherapy: Involves modern cancer drugs that are administered intravenously or orally to kill cancer cells and to reduce the chances of the tumour returning elsewhere in the body.
Radiation Therapy: India's leading Cancer hospitals now have some of the world's most advanced radiation equipment like Linac, Novelis, Gamma Knife and Cyberknife for treating ovarian Cancers. High technology radiation is used to kill cancer cells without affecting the healthy tissues.Get Estimate
Highly Advanced Minimally Invasive Surgery for Ovarian Cancer at World Class Hospitals in India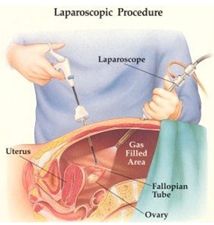 This is definitely the treatment of choice for early Ovarian cancer. The procedure is also useful in certain cases of recurrent Ovarian cancer that require extensive radical resection, including partial or complete exenteration or removal of the pelvic organs. If the tumor appears to be confined to the ovary, your doctor may recommend a minimally invasive procedure called laparoscopy for biopsy and tumor removal. It allows the surgeon to remove all or parts of your tumor using several small incisions rather than one large incision.
A thin, lighted tube with a camera at its tip (called a laparoscope) is inserted through a tiny incision in the abdominal wall. Guided by the highly magnified image generated by the camera, the surgeon can take a sample of the tissue using specially designed surgical instruments. Like the open surgical procedure laparotomy, laparoscopy can be used to stage (to determine the extent of the tumor) and to remove cancerous tissue.Get Estimate
LAPAROSCOPIC
Small Incisions (less than ½ an inch)
Hospital stay is 1 to 3 days
Patients usually return to work in 5 to 10 days
Lesser Risk of Infection
Less Pain
Less Chance of Hernias
OPEN
Large Incision (20 cm)
Hospital stay of about 5 days
Return to work in about 4 weeks
Greater Risk of Infection (less than ½ an inch)
More Painful
More Chance of Hernias

Get Estimate
---
Ms Cheryl Campbell from USA shares her experience of travelling to India for Medical Treatment.

My husband and I have experience of hospitals both in the US and UK. Finding safemedtrip.com has been a boon. The hospital in India is overall the very best we have experienced. The level of care is exceptional.
Every member of staff works as a dedicated member of a team to assist recovery. We were somewhat nervous about coming to India as we have never visited before, but we were never left unsure or uncomfortable about anything from the time we were picked up at the airport. The medical facilities and the room facilities were equally excellent. We informed about every step which made us feel in control of our situation. The staff was extremely forthcoming and communicative. A special word of thanks, to the Physiotherapist, who worked hard and motivated me to get back on my feet again without any pain. Were any of our family to need surgery again, with time to make a choice we would come here.

Refer a Patient
---
Get the SafeMedTrip Advantage
Benefit from our expertise of helping hundreds of foreign patients find top quality, affordable medical care in India.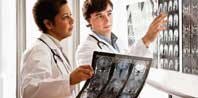 Get Expert Medical Opinion/ Second Opinion – Send us the Medical reports by Email or WhatsApp and we will get you Expert Advice ​​and ​Treatment Cost Estimates​ from Top Specialist at ​Three of India's ​leading hospitals within ​48 hours.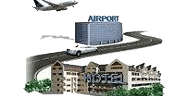 Free Concierge ​Services​ –​ Once you decide to come to India, We will arrange ​Priority Scheduling of Hospital Appointments, Travel & Visa Assistance, Airport Pick up, Economical Hotel Stay, ​Complete ​Local Support​ ​24X7.​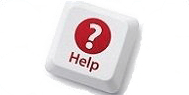 No Obligation – Zero Cost Assistance. We do not collect any service fee from patients. You will directly pay the hospitals after you arrive in India. We ensure Quick, Hassle Free, Affordable Treatment at World Class hospitals in India.
Get Expert Opinion from India's Best Doctors.
SafeMedTrip Consultants Pvt. ltd. | 301, Ansal Tower 38, Nehru Place, New Delhi - 110019, India