Radio Frequency Ablation (RFA Treatment) – Modern Technology for management liver cancer, Kidney and Lung Tumors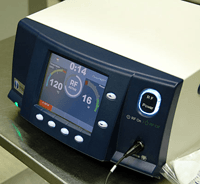 It is a new minimally invasive technique that involves the introduction of image guided electric needles through small punctures in the skin of the body overlying the diseased tissue. The probes are guided to the target site with the help of CT scan or ultrasound. Once the target is reached high frequency current is passed through the needle probes which produces large amount of heat within and around the tumor cells and kills them tumor. It is helpful in localized tumors and can also be used in conjunction with resection or chemotherapy.
RFA can be used successfully to destroy tumor tissue in any part of the body. It can also be used to treat any dysfunctional tissue. Currently it has been used effectively to treat cardiac arrhythmia, liver cancer, varicose veins, kidney tumors, chronic low back pain (rhizotomy). In the last 15 years RFA has come to be a dependable and safe procedure with promising outcome. It is generally used for multiple tumors within the same organ or various organs, primary or secondary tumors, or if the tumor is too large to be resected or if the patient cannot tolerate surgery.
An important advantage of RF current (over previously used low frequency AC or pulses of DC) is that it does not directly stimulate nerves or heart muscle and can therefore often be used without the need for general anesthetic. RFA has become increasingly accepted in the last 15 years with promising results. RFA procedures are performed under image guidance (such as X-ray screening, CT scan or ultrasound) by an interventional pain specialist (such as an anesthesiologist), interventional radiologist or a cardiac electrophysiologist, a subspecialty of cardiologists.
Request a Call Back