World's Most Advanced Non-Surgical High Intensity Frequency Ultrasound Treatment (HIFU) for Prostate Cancer
Excellent Outcomes and Affordable Cost is assured.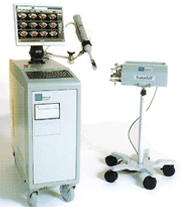 HIFU is a revolutionary new treatment for the early stage Prostate Cancer where the disease is still organ confined and it is possible to treat that cancer without radiation and without having to make a surgical incision in the body.
HIFU is a short form for high intensity focused ultrasound; it is focusing of high intensity sound waves to create heat at a specific point, called the focal point. With state-of-the-art technology, HIFU can be used to destroy targeted tissue during a procedure that is individually customized for each patient's prostate cancer treatment. When HIFU energy is delivered to a specific location within the body, the tissue that is malignant or desired to be removed is destructed, while the tissue outside the focal point remains unharmed.