World's Most Advanced Non-Surgical High Intensity Frequency Ultrasound Treatment (HIFU) for Prostate Cancer
Excellent Outcomes and Affordable Cost is assured.
HIFU is a Minimally Invasive Prostate Cancer Therapy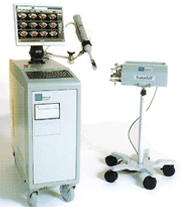 HIFU is a revolutionary new treatment for the early stage Prostate Cancer where the disease is still organ confined and it is possible to treat that cancer without radiation and without having to make a surgical incision in the body.
HIFU is a short form for high intensity focused ultrasound; it is focusing of high intensity sound waves to create heat at a specific point, called the focal point. With state-of-the-art technology, HIFU can be used to destroy targeted tissue during a procedure that is individually customized for each patient's prostate cancer treatment. When HIFU energy is delivered to a specific location within the body, the tissue that is malignant or desired to be removed is destructed, while the tissue outside the focal point remains unharmed.
HIFU is a Minimally Invasive Prostate Cancer Therapy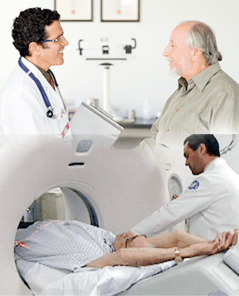 HIFU is an outpatient procedure, generally performed under local or general anesthesia that is completely radiation free. Because HIFU is non surgical, there is no incisions or blood loss and recovery is quick.
HIFU therapy can be repeated, if necessary. It can also be used as a salvage therapy if other prostate cancer treatment options fail.
Because it uses clean ultrasound energy, it doesn't cause harm to any tissue surrounding the targeted focal point.
Advantages of HIFU Treatment
No blood loss
Quick recovery
Non surgical
Radiation free
An outpatient procedure
This is most modern technique ideal for treatment of low grade prostate cancer. It involves no surgery, no radiation , good cancer control, minimal morbidity.
HIFU helps to improve the quality of life after Treatment and there are some more advantages like early return of erections and good urinary control.
Preparing for HIFU
Your surgeon will explain how to prepare for the procedure.
HIFU is usually done as a day-case procedure under general anesthesia. This means you will be asleep during the procedure. If you're having a general anesthetic, you will be asked to follow fasting instructions. This means not eating or drinking, typically for about six hours beforehand. However, it's important to follow your surgeon's advice.
Your surgeon will discuss with you what will happen before, during and after your procedure, and any pain you might have. This is your opportunity to understand what will happen, and you can help yourself by preparing questions to ask about the risks, benefits and any alternatives to the procedure. This will help you to be informed, so you can give your consent for the procedure to go ahead, which you may be asked to do by signing a consent form.
What Happens During HIFU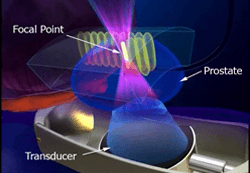 HIFU takes up to three hours, but this depends on the size of your prostate and how much of it is being treated.
Your surgeon will pass a lubricated probe into your rectum. During the procedure, precisely focused ultrasound waves raise the temperature of the targeted prostate tissue to 195 degrees Fahrenheit in 2-3 seconds. This rapid-firing heat destroys the targeted tissue while leaving structures outside the targeted tissue unharmed. The probe will have a cooling balloon around it to protect nearby areas from the high temperature.
Get Estimate
HIFU Treatment for Prostate Cancer

New Treatment for Prostate Cancer Gives 'Perfect Results' for Nine in Ten Men: Research
A new treatment for prostate cancer can rid the disease from nine in ten men without debilitating side effects, a study has found, leading to new hope for tens of thousands of men.

By Rebecca Smith, Medical Editor
It is hoped the new treatment, which involves heating only the tumours with a highly focused ultrasound, will mean men can be treated without an overnight stay in hospital and avoiding the distressing side effects associated with current therapies.
A study has found that focal HIFU, high-intensity focused ultrasound, provides the 'perfect' outcome of no major side effects and free of cancer 12 months after treatment, in nine out of ten cases.
Traditional surgery or radiotherapy can only provide the perfect outcome in half of cases currently.
Experts have said the results are 'very encouraging' and were a 'paradigm' shift in treatment of the disease.
It is hoped that large scale trials can now begin so the treatment could be offered routinely on the NHS within five years.
The National Institute for Health and Clinical Excellence will say in new guidance next week that the treatment is safe and effective and larger scale trials should go ahead.
Benefit from our Highly Negotiated Surgery/Treatment Packages
We can help you Save up to 40 Percent on Cost of Medical Treatment/Surgery Packages at World Class Hospitals in India
After you send the Medical reports to us by Email or WhatsApp, Our experts will forward your case for expert opinion to the specialists who have the best expertise for the treatment required by you.
You will get competitive medical estimates from at least three top hospitals in India within max 48 hours. This is a FREE No Obligation Assistance Service offered by SafeMedTrip.com
We Provide Free Assistance for Medical Opinion, Travel & Medical Visa Assistance, Airport Pick up, Economical Hotel Stay, Complete Local Support 24X7.
*Please send medical reports for personalized treatment plan and estimates
How it Works – Get Most Affordable Treatment in India
| | |
| --- | --- |
| | Send medical reports by WhatsApp/Email |
| | |
| --- | --- |
| | Receive quotation(s) within 48 Hours |
| | |
| --- | --- |
| | Get Free Medical Visa & Airport Pick up |
| | |
| --- | --- |
| | Medical Treatment Assisted & Fly Back Home |
Frequently Asked Questions
Once you have decided that you want to get treatment in India you can email us your latest medical reports and accompanying X-Rays, MRI Scans and other relevant medical documents at help@safemedtrip.com or Call or WhatsApp us on +91-9899993637 for one to one discussion with our executives.
Once we receive your reports, we will get them reviewed by our medical experts and will send you a detailed treatment package consisting of doctor's diagnosis, treatment plan, cost of treatment, duration of stay in hospital and duration of stay in India besides other relevant details.
Once you have confirmed to us that you want to proceed further to get treatment in India, our team will help you with the Indian medical visa assistance and documentation process. We will also help you in arranging for a comfortable local stay for you and your attendant. You don't have to send any money in advance.
Savings can be from 30-50%, depending upon the procedure and the destination. Your treatment will be carried out from only the best hospitals in India that are NABH accredited and have specialists that are recognized globally for their expertise.
From the date you decide on one of the three affordable treatment packages offered to you. It may take 1- 3 weeks to obtain Medical Visa and book flight tickets. We have zero waiting period and you can be received at the Airport on arrival and immediately admitted at hospital and treatment will start.
Its advisable that you should not delay your treatment particularly in case of severe illnesses like Cancer, Heart or Spine etc. Early start of treatment results in quick recovery and lower expense compared to delay of treatment.
The difference in cost package due to the labour and insurance costs of the hospital operating in India, and not by the difference in the quality of treatment.
Each patient is assigned to a SafeMedTrip Patient Case Manager who will take care of every single detail ranging from arrival to send off.
Yes, of course. We will provide you with complete assistance in selecting high-quality hotels near the hospital location that fits your budget.
You will be given a complete profile of the specialist before you proceed for the treatment. On special request, we will be happy to connect you with him through a teleconferencing service facilitated by Skype.
Patient Testimonials – What People Say about us
Patients from over 72 countries have benefitted from SafeMedTrip Assistance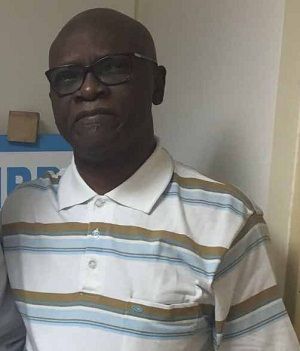 Mr. Adedeji Iheanacho From Nigeria, Prostate Cancer
Mr. Adedeji Iheanacho From Nigeria, Prostate Cancer
"To discover that I suffered from enlarged Prostate which had some cancer involvement was quite a shock for me just after I turned 55 years last December. I then went to the Internet and found this website Safemedtrip.com amongst several others. I sent e-mails of my reports with my specific problem outlined to them?
"Now just 2 weeks later, I am glad that I made a quick decision and I am feeling much better and ready to return home. I attribute this to the world class technology here in India and the skill of the surgeon and staff who have worked so hard to get me back on my feet. The staff at the hospital were all smiles and very helpful.
"I enjoyed all my meals during my stay. I would recommend anyone who needs a Prostate Surgery to go for the HIFU ? option, it is a bit expensive but the pay offs are superb – less pain, quick recovery and no fear of complications."


E. Hickey from United Kingdom – Prostate Cancer Transplant
E. Hickey from United Kingdom – Prostate Cancer Transplant
"Good day, I was attendant to your patient E. Hickey. I just want to give a little feedback on the care we received in your hospital. I must say we have been overwhelmed by the level of attention to details from your hospital.
It was then happened to visit the Safemedtrip website and mailed all my medical reports to them. We were very happy to hear from their case manager within 24 hours who assured us that I could undergo the robotic surgery for prostate cancer in India with the same international level of care guaranteed. And what's more, the quote fitted our budget.
1 month later, I feel the decision to go to India was the best one of my life. The surgery was successful and I am enjoying my life to the fullest now, thanks to Safemedtrip and India.
Get the SafeMedTrip Advantage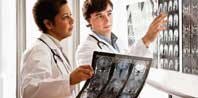 Get Expert Medical Opinion/ Second Opinion – Send us the Medical reports by Email or WhatsApp and we will get you Expert Advice ​​and ​Treatment Cost Estimates​ from Top Specialist at ​Three of India's ​leading hospitals within ​48 hours.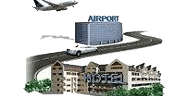 Free Concierge ​Services​ –​ Once you decide to come to India, We will arrange ​Priority Scheduling of Hospital Appointments, Travel & Visa Assistance, Airport Pick up, Economical Hotel Stay, ​Complete ​Local Support​ ​24X7.​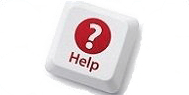 No Obligation – Zero Cost Assistance. We do not collect any service fee from patients. You will directly pay the hospitals after you arrive in India. We ensure Quick, Hassle Free, Affordable Treatment at World Class hospitals in India.
Get Expert Opinion from India's Best Doctors.
WhatsApp Consult Now