Gamma Knife RadioSurgery : Advanced Non Surgical Treatment for Brain Tumors
Though it is called Gamma Knife, There is No Blade Used or Blood Loss in This Advanced Stereotactic Radiosurgical Treatment.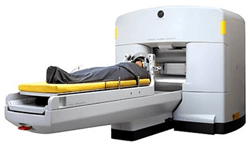 Gamma Knife Radiosurgery treatment, is a new ray of hope for the patients diagnosed with brain tumor disorders. Although it's called Gamma Knife, there is no blade used or blood loss. Instead, it is a stereotactic radiosurgical treatment that delivers a dose of gamma radiation to the target with surgical precision and is the most accepted and widely used radiosurgery treatment in the world.
Gamma Knife is a very precise and effective instrument that uses radiation to treat the brain and is often called radiosurgery. Gamma Knife surgery is recognized worldwide as the preferred treatment for brain tumors, arteriovenous malformations and brain dysfunctions such as trigeminal neuralgia.