Dr. Shalabh Mohan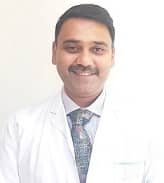 Obesity and Bariatric Surgeon
Associate Director , Fellowship, MS, MBBS, 22 years of experience Gurgaon , India

Send Enquiry
About Doctor
Dr. Shalabh Mohan is a Senior Consultant of over 22 years of experience. His areas of expertise include all routine and advanced laparoscopic surgeries, including. Bariatric surgery for treatment of Obesity and Diabetes, Laparoscopic Cancer surgeries, Laparoscopic Gastrointestinal surgeries (including surgeries for acid reflux and colorectal surgery). He also performs Laser surgeries for varicose veins, piles, fissures and fistulas.
He has single handedly done several Onco Surgical procedures both open and Laparoscopic for breast, Gastro-intestinal, Hepatobiliary, Renal and Bladder Tumors, and Adrenal Tumors. Dr. Shalabh is a specialist in performing day care Laparoscopies-including gall bladder removal, hernia repair, varicocelectomy, etc.
He is currently Senior Consultant in Max Hospital Gurgaon, where he has worked since its inception. He has worked extensively in many world class hospitals, including Artemis, Fortis, Columbia Asia and others. He also sees patients in his clinic at Nirvana Country, Gurgaon.
He is a graduate from Delhi University, where he did both his undergraduate and post graduate training. He has received specialist training in laparoscopic procedures from international centres in Germany, Singapore, and US
Specialization
Bariatric and Metabolic Surgery,
Laparoscopic Colorectal and Hepato Biliary Surgery,
Laparoscopic Upper GI Surgery including Antireflux Surgery,
Laparoscopic Oncosurgery,
Endocrine and Breast Surgery,
Laser Surgery for Varicose Veins, Piles, Fissures and Fistulas.
Education
Fellow – Association of Minimal Access Surgeons of India
Fellow – Indian Association of Gastrointestinal and Endosurgeons
Attended training workshops on advanced laparoscopic and bariatric surgery – Singapore, Germany, and India
MS in General Surgery – Lady Hardinge College, New Delhi
MBBS – Maulana Azad Medical College
Get Expert Opinion from India's Best Dr. Shalabh Mohan