Dr Ashish Sabharwal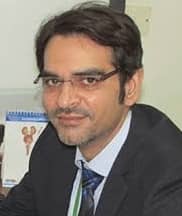 Dr Anil Kumar Varshney: Urologist and Robotic Prostate Surgeon
Director – Urology
16+ years of experience
Qualifications:
MBBS,M.S.(General Surgery),DNB(Urology)

Send Enquiry
About Doctor
Dr Ashish Sabharwal is a Senior Consultant in Urology / Andrology and Robotic Surgery. He is Board Certified in Urology. After his urology residency in Apollo Hospital, he went to USA to do a highly coveted Endourology and Robotic Prostate Surgery fellowship in Jackson Health System, Miami, Florida, USA from 2008 to 2011. At Fortis Escorts Hospital, he is doing all the major complex surgeries that he was doing in USA. His special expertise is in Robotic Surgery to treat Prostate Cancer, Laser surgery for Enlarged Prostate, laser surgery for Kidney stone, treatment of erectile dysfunction including Penile Implants.
Dr. Ashish Sabharwal is Prostate Cancer Treatment and Robotic Surgery Expert. He has Performed over 2,000 + successful robotic prostate surgeries and as such, many regard him as the Best Prostate Surgeon and most experienced Robotic Surgeon in India.
Dr. Ashish Sabharwal is actively involved in training and proctoring urologists and prostate surgeons across the country and internationally.
Speciality Interests:
Urologist and Robotic Prostate Surgeon, Prostate Diseases including Benign and Cancerous Prostate Enlargement
Location
India
Get Expert Opinion from Dr Ashish Sabharwal