Dr Anil Kumar Varshney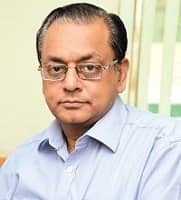 Dr Anil Kumar Varshney: Urology
Director – Urology
32+ years of experience
Qualifications:
M.S, Ph. D (Urology), Fellowship (FIMSA- USA)

Send Enquiry
About Doctor
Dr. Varshney conducted more than 100 Laser workshops all over the country & South East Asia including Srilanka, Nepal, Malaysia, Indonesia, China & Singapore. He also Contributed to establishing Holmium Laser Enucleation of the prostate in India.
Presently associated as President North zone chapter – Urological society of India. Member of various associations such as Urology Society of India, Delhi Urology Society, North Zone Chapter – USI, American Urological Association, Society Interventional Urology (SIU) and World Endourology Society.
Experience
Director & Senior Consultant (Urology) – Max Pitampura (2013 – 2017)
Medical Director – R G Stone Urology & Lap Hospital (1992 – 2013)
Ex-President and President – North Zone Chapter of Urological Society of India (NZ USI)
Guest Editor of JIMSA, Special Edition on "Urology Update"
Speciality Interests:
Location
India
Get Expert Opinion from Dr. Anil Kumar Varshney