Dr. Sudhir S Pai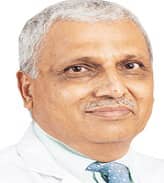 Neurosurgeon
Main Speciality:
Spine Surgeon
Senior Consultant, MCh, MS, MBBS, 20 years of experience Bangalore, India.

Send Enquiry
About Doctor:
Dr. Sudhir S Pai is a renowned Neurosurgeon based in Bangalore with 20+ years of experience.
His expertise lies in Laminectomy, Tumour Embolization, Petrosal Sinus Sampling, Head & Neck Tumour Embolization, Spinal tumor, Cerebral Tumor Embolization, and well trained in all kinds of neurosurgical cases including trauma, spine, and other kinds of complex brain surgeries.
Dr. Pai has completed his MBBS from the reputed Jawaharlal Nehru Medical College followed by MS in General Surgery and MCh in Neurosurgery from the well know All India Institute Of Medical Services, Delhi. He won many recognitions for his extraordinary achievements during his graduation days.
Under his credit, there are numerous national and international publications accredited in the indexed journals and he is actively invited as a guest speaker in scientific meetings, CME's, worldwide conferences to talk about Head and neck tumor embolization.
Specialization:
Laminectomy
Tumour Embolization
Petrosal Sinus Sampling
Head & Neck Tumour Embolization
Spinal and Cerebral Tumor Embolization
Education:
MCh, 1983, All India Institute Of Medical Services.
MS, 1979, All India Institute Of Medical Services.
MBBS, 1976, Jawaharlal Nehru Medical College.
Location:
India
Get Expert Opinion from Dr. Sudhir S Pai