Dr. Shumayou Dutta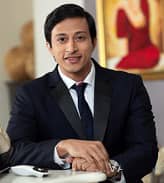 Neurosurgeon
Main Speciality:
Spine Surgeon
Visiting Consultant, Fellowship, Fellowship, MS, MBBS, 12 years of experience, India

Send Enquiry
About Doctor:
Dr. Shumayou Dutta is a leading and internationally acclaimed Spine Surgeon with +12 years of experience in the field of spine surgery.
He is a professional member of the Association of Spine Surgeons of India (ASSI), the North American Spine Society, Minimally Invasive Spine Surgeons India and the West Bengal Spine Society.
He graduated in 2009 from M S Ramaiah Medical College, Bangalore, followed by MS from Bharati Vidyapeeth University, Pune. Dr. Dutta also has noteworthy fellowships from leading medical institutes in Germany, the USA and Korea.
He has had the honour of demonstrating Minimally Invasive Spine Surgery with eminent orthopedic/spine surgeons at live courses/workshops/conferences in India and abroad. Dr. Dutta ha won awards overseas. He is one of the pioneers of Minimally-Invasive Spine Surgeon (MISS).
He is an expert at deformity correction surgeries, artificial disc replacement, spinal disc surgery, scoliosis surgeries, MISS and various other treatments related to spine, neck and the back.
Dr. Dutta is among a selective few surgeons who can perform navigation and robotics-assisted spine surgery.
He has co-authored research papers for international spine journals and has contributed three chapters to orthopedic curriculum. He is on the review board of the international journal, 'Spine'.
Work Experience of Dr. Shumayou Dutta
Fellowship, 2020, Evangelisches Waldkrankenhaus Spandau.
Fellowship, Bombay Hospital and Medical Research Center.
MS, 2014, Bharati Vidyapeeth University, Pune.
MBBS, 2009, M S Ramaiah Medical College, Bangalore.
Specialization:
Spine Injury
Spinal Fusion
Spinal Disorders
Spinal Disc Surgery
Spine pain
Spinal Therapy
Back Pain Treatment
Neck Pain Treatment
Cervical Spondylitis Treatment
Percutaneous Vertebroplasty for Compression Fracture
Scoliosis Correction
Slip Disc
Herniated Disc
Disc Prolapse
Education:
Medica Superspecialty Hospital, 1
Bombay Hospital, Mumbai, 2
Location:
India
Get Expert Opinion from Dr. Shumayou Dutta