Dr. Rajendra Prasad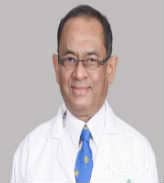 Neurosurgeon
Main Speciality:
Neurosurgeon, Spine Surgeon
Senior Consultant , Fellowship, FRCS, MBBS, 36 years of experience New Delhi, India

Send Enquiry
About Doctor:
Dr. Rajendra Prasad is a spine surgeon with more than 36 years experience. He has performed more than 3100 major brain and spine surgeries including over 300 spinal instrumentations.
He was instrumental in introducing cervical and lumbar radiofrequency rhizotomies at his current hospital and has successfully performed more than hundred such procedures in a span of almost 3 years.
He was the finalist of BMJ Awards for South Asia 2015 and was the winner of First BMJ awards 2014. Trained as a Registrar in Neurosurgery at the National Hospital for Nervous Diseases, London and Nottingham University a Hospital.
He received training as Senior Registrar at Frenchay Hospital Bristol, UK. He has worked in teaching hospitals like Cork Regional Hospital, Cork, National Hospital for Nervous Disease, London between 1979-1987.
He is the Founder Chairman of Primary Trauma Care Centre UK (Delhi chapter). He is the Hon. Medical Director of Indian Head Injury Foundation and the MRCS Examiner of Royal College of Surgeons, Edinburgh. He is delegate of AO Spine Asia Pacific.
Dr. Prasad is the life member of Associations Of Spine Surgeons Of India, Neurological Society Of India and Neuro Trauma Society Of India. He is a member of the Congress Of Neurological Surgeons(CNS), UK and the Past President and Founder Member of Delhi Spine Society.
He did his MBBS from Ranchi University in 1979 and pursued his FRCS in Glasgow and UK. He received a Fellowship of the Intercollegiate Speciality Board In Neurosurgery (UK). He did a Spine Fellowship at the Royal National Orthopaedic Hospital Stanmore, London.
Specialization:
Minimal invasive spine surgery
Microdiscectomy for cervical and lumbar discs
Spinal instrumentation for spinal injuries
Lumbar & Cervical Canal Stenosis
Radio frequency Rhizotomy
Acute head and spine injuries
Microsurgery and Stereotactic surgery
Neuro-rehabilitation
Work Experience of Dr. Rajendra Prasad
Registrar, National Hospital for Nervous Diseases, London.
Education:
Fellowship, 1996, Royal National Orthopedic Hospital, London
FRCS, 1995, Intercollegiate Specialty Board in Neurosurgery (U.K.)
MBBS, 1979, Ranchi University
Location:
India
Get Expert Opinion from Dr. Rajendra Prasad