Dr. Puneet Girdhar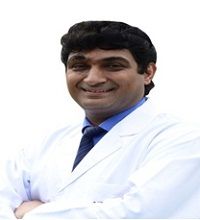 Orthopedecian
MBBS, MS, M.Ch (Ortho.), Spine Fellow (U.K.),
Arthroplasty Fellow (Germany), AO Fellow (USA)
Senior Consultant – Spine Neurosurgery

Send Enquiry
Dr. Puneet Girdhar brings to BLK Super Specialty Hospital a vast clinical experience of over 15 yrs experience in Spine Neurosurgery having practised at some of the best Institutes in India. He is amongst reputed neuro spine surgeons in India and is now at the forefront of doing cutting edge clinical work in the areas of most modern treatment modalities such as minimal invasive surgical management of spinal disorders, Scoliosis and spinal deformity correction surgery. He also specialises in He is also well versed with non –surgical pain relieving techniques such as Nerve root blocks, Facetal injections and Epidural infiltrations.
Professional Qualifications
MBBS
MS
M.Ch (Ortho.)
Spine fellowship at University Hospital of Wales, Cardiff, U.K.
Clinical & Bioskills training on MITLIF with Dr. Mun Wai Yue, Singapore General Hospital, Singapore
Articular surface arthroplasty fellow with Dr.Thomas Seibel, Knappschafts Krankenhaus, Puttlingen, Germany
AO trauma fellowship with Dr. Wade Smith,Denver Health Colorado, USA
Surgical Expertise
SPINE SURGERY
Microdiscectomy, Anterior/ Posterior Decompression and Instrumentation, Minimal invasive spinal fusions,
Artificial disc replacements and deformity correction in Cervical, thoracic and lumbar spine in a wide array of Congenital,
Degenerative, Neoplastic and Traumatic conditions of spine.
Scoliosis Correction Surgery