Dr. Nikhil Jain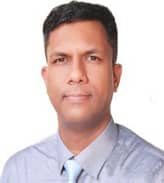 Neurosurgeon
Main Speciality:
Spine Surgeon
Consultant , MS, MBBS, 14 years of experience New Delhi , India

Send Enquiry
About Doctor:
Dr. Nikhil Jain is a well-known and super-specialised Spine Surgeon with +14 years of experience in the field of addressing spinal surgeries, diseases and disorders. He holds professional memberships of the, AO Spine International Society and the Delhi Spine Society.
In 2007, he cleared MBBS from Kerala University and in 2012, did his MS from Rajasthan University of Health Science, Jaipur, followed by FNB from National Board of Examinations Ministry of Health Government of India in 2019.
He is known for performing procedures such as, vertebroplasty, kyphoplasty, spinal laminectomy, discectomy, foraminotomy, nucleoplasty, spinal fusion surgeries, scoliosis correction, interlaminar implant, sciatica, MIS for spine and artificial disk replacement.
Dr. Jain's other areas of interest are, infections, tuberculosis, tumours, congenital spinal deformities, occipito-cervical and cervical spine pathologies, endoscopic spine surgeries, neck pain, back pain, leg pain, spinal fractures, osteoporosis, spondylolisthesis, spinal stenosis, infections.
In 2018, Dr. Jain was felicitated with the prestigious Ravi K. Jerath best FNB award besides several other awards. Dr. Jain has contributed several articles that have been published in both national and international journals.
Specialization:
Spinal Fusion Surgery
Spinal Decompression Surgery
Minimally Invasive Spine Surgery
Foraminotomy
Discectomy
Endoscopic Surgery
Kyphoplasty
Scoliosis Correction
Interlaminar Implant
sciatica treatment
Work Experience of Dr. Umesh Srikanth
Associate Consultant, Indraprastha Apollo Hospital, New Delhi.
Education:
2019, National Board of Examinations, Ministry of Health Government of India, 2019.
MS, 2012, Rajasthan University of Health Science, Jaipur.
MBBS, 2007, Kerala University.
Location:
India
Get Expert Opinion from Dr. Nikhil Jain