Dr. Himanshu Tyagi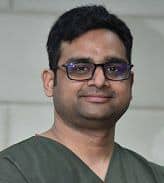 Neurosurgeon
Main Speciality:
Spine Surgeon
Senior Consultant , MCh, DNB, Fellowship, Post Graduation, MBBS, 12 years of experience Gurgaon , India

Send Enquiry
About Doctor:
Dr. Himanshu Tyagi is a spine and orthopedic surgeon with an experience of 12+ years. He won VISHISHT CHIKITSA RATAN AWARD' – 2019 by Delhi Medical Association.
He has performed more than 8000 surgeries to date. He performs more than 700 surgeries per year using the latest state of the art technology. He is credited for removing the largest tumor from the human spine weighing 6 kg.
His interests include surgeries for knee replacement, spinal problems, Orthopedic fractures, Minimally Invasive Spinal Surgeries including disectomy, spinal fusion, spinal fixation procedures and navigation assisted knee replacements.
Dr. Tyagi is a member of the Indian Orthopedic Association; Association of Spine Surgeons of India (ASSI); Delhi Orthopedic Association, UP Orthopedic Association and Delhi Spine Society.
Dr. Tyagi has published many papers for various journals that include those published in the Indian Heart Journal 2013 – 2014.
Specialization:
Robotic Spine Surgery
Endoscopic Transforaminal spine surgery
Scoliosis correction surgery
Adult degenerative scoliosis surgery
Hip Replacement surgery
Kyphoplasty/Vertebroplasty
Cervical spine surgeries
Elbow Replacement surgery
Minimally invasive fracture fixation
Keyhole spine surgeries like discectomy and fusion
Cranio-Cervical Junction Problems
Education:
MCh, (Orthopedics) University of Edinburgh, UK
DNB, Sir Ganga Ram Hospital, New Delhi
Fellowship, (Spinal Deformity) Christian Medical College, Vellore
Post Graduation, Bhabha Atomic Research Center & Hospital, Mumbai
MBBS, Saurashtra University, Gujarat
Location:
India
Get Expert Opinion from Dr. Himanshu Tyagi