Dr. Hemant Bhartiya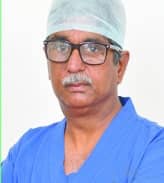 Neurosurgeon
Main Speciality:
Neurosurgeon, Spine Surgeon
Director , MBBS, MS, MCh, 34 years of experience Jaipur , India

Send Enquiry
About Doctor:
Dr. Hemant Bhartiya is a renowned Neuro & Spine Surgeon, with experience of 30+ years. He has successfully performed 6000+ neurosurgeries. Major surgeries by him: are Endoscopic Brain & Spine Surgery, Stereotactic Surgery, Tran-nasal Approach to Pituitary Tumors, Anterior Surgical Approach to Cervical Spine Lesions, Artificial Disc Implants in Cervical Region, and Odontoid Screw Fixation.
He has successfully treated many dignitaries & Polo players, for which he was recognized by the media several times. He has been invited as a speaker and to chair many National and International Conferences.
Dr. Hemant has expertise in the specialties of Laminectomy, Head & Neck Tumour Embolization, Carotid Cavernous Fistula Treatment, Brain infection, Spine Surgery, and Peripheral Neurosurgery. He has published several research-papers in popular national and international journals.
Specialization:
Brain Tumor Surgery
Aortic Anuerysm Surgery / Endovascular Repair
Epilepsy surgery
Spine Surgery
Cerebrovascular Surgery
Endovascular Interventions like Coiling and embolisiation
Trauma surgeries
Head injuries
Spinal Injuries
Spinal Fusion
Spinal Surgery
Spinal Cord Injury Treatment
Musculoskeletal Pain Management
Fracture Treatment
Joint Dislocation Treatment
Chemonucleolysis
Spinal Disc Surgery
McKinzie Treatment for Spine
Work Experience of Dr. Hemant Bhartiya
Director, Fortis Escorts Hospital Jaipur.
Education:
MBBS, SMS College, Jaipur
MS, SMS College, Jaipur
MCh, Grant Medical College, Mumbai
Location:
India
Get Expert Opinion from Dr. Hemant Bhartiya