Dr. Harsh Bhargava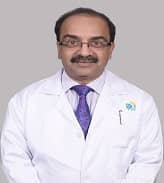 Neurosurgeon
Main Speciality:
Spine Surgeon
Senior Consultant, MBBS, MS, 33 years of experience New Delhi, India

Send Enquiry
About Doctor:
Dr. Harsh Bhargava is an eminent Orthopedician and spine surgeon and has experience of more than 33 years. His interest lies in Geriatric Orthopaedic Spine & related problems.
He is an active member of Indian Orthopedic Association (Ioa), Association Of Spinal Surgeon Of India (Assi), Delhi Spine Society, Central Zone Indian Orthopedic Association (Czioa), Ao Spine, Ao Fellowship In Traumatology, Germany 1990, Aesculap Spine Fellowship, Germany 1994, and Spine Fellowship, S. Korea 2002.
Dr. Harsh has expertise over the treatment of Infection of the spine, injury to the spine, Scoliosis, Spinal stenosis, Spinal tumor, Fractures, and Spinal cord injuries. He has several publications in both international as well as national journals.
Specialization:
Bone infections
Bone tumors
Fractures
Need for amputation
Nonunions: failure of fractures to heal
Malunions: fractures healing in a wrong position
Spinal deformities
Arthritis
Bursitis
Dislocation
Joint pain
Joint swelling or inflammation
Ligament tears
Bunions
Fasciitis
Foot and ankle deformities
Fractures
Hammer toe
Heel pain
Heel spurs
Joint pain and arthritis
Sprains
Tarsal tunnel syndrome
Sesamoiditis
Tendon or ligament injury
Cartilage and meniscus injuries
Dislocation of the kneecap (patella)
Ligament sprains or tears (anterior cruciate, posterior cruciate, medial collateral, and lateral collateral
ligament tears)
Meniscus injuries
Work Experience of Dr. Harsh Bhargava
33 Years Post MS
Working in Apollo Hospitals since last Assignment
Consultant, Delhi Heart And Lung Institute in Mandir Marg, Delhi
Education:
MBBS, AP Singh University, Rewa
MS, AP Singh University, Rewa
Location:
India
Get Expert Opinion from Dr. Harsh Bhargava