Dr. Gurneet Singh Sawhney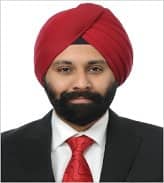 Neurosurgeon
Main Speciality:
Spine Surgeon
Consultant , Fellowship, MCh, MS, MBBS, 14 years of experience Mumbai , India.

Send Enquiry
About Doctor:
Dr. Gurneet Singh Sawhney belongs to the new generation of ultra-modern neurosurgeons in India. Dr. Sawhney is acclaimed for his excellent competence in treating complex and critical brain and spinal cord disorders.
Dr. Gurneet Singh Sawhney is an accomplished and dynamic neurosurgeon with extensive training in minimally invasive surgery and neurotrauma procedures.
His deep-rooted passion for neurosciences propelled him to specialize in Functional Neurosurgery, Epilepsy Neurosurgery, Stereotactic Radiosurgery, and Neuroendoscopy.
With the accumulated experience of 14+ years, Dr. Gurneet Singh Sawhney has emerged as the most distinguished neurosurgeon in Mumbai through his sheer hard work, dedication, and perseverance.
Specialization:
Minimally Invasive Spine Surgery
Epilepsy Surgery
Endoscopic Pituitary Surgery
Deep Brain Stimulation Surgery (DBS)
Vascular Neurosurgery
Aneurysm
AVM Surgery
Parkinson's Treatment
Seizure Treatment
Work Experience of Dr. Gurneet Singh Sawhney
With his insightful exposure across various Medical Services, Disease Management, Research and Neurological Treatments, he was earlier leading as Consultant and Head Neurosurgery Department at City Care Trust Hospital in Ahmednagar. His key roles comprised of handling all neurosurgical emergencies and elective neurosurgical cases as well as managing all preop and postop neurosurgical cases. He also delivered his medical expertise at St. John's Academy of Health Sciences, Bangalore (parent institute) as an Assistant Professor Neurosurgery.
Education:
Fellowship, 2017
MCh, 2014, St. John's Medical College and Hospital, Bangalore
MS, 2010, St. John's Medical College and Hospital, Bangalore
MBBS, 2004, Terna Medical College, Navi Mumbai
Location:
India
Get Expert Opinion from Dr. Gurneet Singh Sawhney