Dr. Gautam Zaveri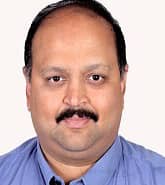 Neurosurgeon
Main Speciality:
Consultant , MBBS, MS, DNB, 24 years of experience in India
Consultant, MBBS, MS, 15 years of experience New Delhi, India

Send Enquiry
About Doctor:
One of the leading spine surgeons in India today with experience of more than 24 years. Amongst the few spine surgeons who are trained in both orthopedic and neurosurgery of the spine.
Performed more than 2500 spine surgeries for a variety of spinal problems such as slipped disc, sciatica, spinal stenosis, spondylolisthesis, cervical spondylotic radiculopathy, myelopathy, spinal fractures, tuberculosis, and tumors, scoliosis and kyphosis.
Performed more than 75 cervical disc replacement (CDR) out of which about 20 cases have been multi-level, the maximum being 3 levels in 5 patients Artificial Disc Replacement.
Specializes in microsurgery, endoscopic spinal surgery, and major reconstructive spinal surgery. Developed a comprehensive non-operative treatment program for spinal disorders.
Trained many Orthopaedic surgeons from different parts of India as spine fellows and registrars. Published a number of scientific papers as well as written chapters in textbooks of spine surgery.
Nominated "The International Spine Fellow" by the International Society for Study of the Lumbar Spine at Adelaide in 2000. Nominated "The best Asia- Pacific Spine Faculty" by the AOSpine International at Davos in 2006
Work Experience of Dr. Gautam Zaveri
Consultant, Fortis Hospital, Mulund, Mumbai
Specialization:
Microsurgery,
endoscopic spinal surgery
Major reconstructive spinal surgery
Education:
MBBS, 1992, Topiwala National Medical College & BYL Nair Charitable Hospital
MS, 1995, Lokmanya Tilak Municipal Medical College, Sion,Mumbai
DNB, 1996, Lokmanya Tilak Municipal Medical College, Sion,Mumbai
Location:
India
Get Expert Opinion from Dr. Gautam Zaveris