Dr. Amit Narayan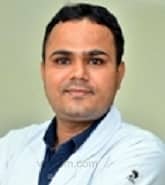 Neurosurgeon
Main Speciality:
Spine Surgeon
Consultant, MBBS, Post Graduation, MCh, 7 years of experience Mumbai, India

Send Enquiry
About Doctor:
Currently associated as consultant with Orthopaedics and Spine department at Pushpawati Singhania Research Institute (PSRI), New Delhi.
Interests are Lumber and Cervical Discectomy, Spine Trauma, Lumber Canal Stenosis Surgeries, Deformity ( spine ) Management & Surgeries, Orthopaedics Trauma & other cases, attending Conferences of spine.
Performs all kind of spine surgeries like Lumber discectomy, Cervical Discectomy, Lumbar Canal Stenosis & listhesis surgeries, spine trauma cases & spine deformity management & Surgeries.
Performs Orthopedics specific General orthopaedics trauma cases & knee & shoulders problems management. Attained Fellowships such as, Association of spine surgeons of India (ASSI) and Spine Fellowship of Globus Medical India.
Member of variousrenowned organisations such as Association of Spine Surgeon of India, Delhi Medical Council, U.P Medical Council, Member of National Academy of Medical Sciences (MNAMS), North American Spine Society (NASS).
Specialization:
Lumber and Cervical Discectomy
Spine Trauma
Lumber Canal Stenosis Surgeries
Deformity ( spine ) Management & Surgeries
Orthopedics Trauma & other cases
attending Conferences of spine.
Work Experience of Dr. Amit Narayan
Consultant, Pushpawati Singhania Research Institute, New Delhi
Education:
Location:
India
Get Expert Opinion from Dr. Amit Narayan