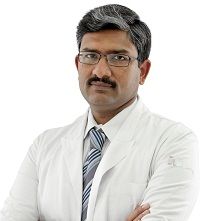 Dr. Aditya Gupta
Chief Neurosurgeon
MBBS (AIIMS), M.Ch. Neurosurgery (AIIMS)
Ex‐Associate Professor, AIIMS
Artemis Super Specialty Hospital,
New Delhi NCR, India

Send Enquiry
A graduate and topper from the prestigious All India Institute of Medical Sciences (AIIMS), Dr Aditya Gupta is an accomplished and experienced neurosurgeon. As a student, resident and later Faculty at AIIMS, he has won several awards, such as the prestigious Sir Dorabji Tata Award. He was Associate Professor of Neurosurgery at AIIMS till late 2009.
Dr Aditya has not only developed excellent surgical techniques for a wide variety of brain tumors, spine diseases, but also has special and unique skills in managing patients with Movement Disorders with Deep Brain Stimulation (DBS), Surgery for Epilepsy, Nerve and Brachial Plexus Surgery, Radiosurgery as well as Cerebrovascular Surgery. He contributed significantly to the setting up and success of all these programs at AIIMS. He has trained abroad at several universities for these specialized skills. Dr Aditya has more than 40 publications and chapters in books, and has been invited speaker at several national and international conferences and on national television.
Education and Training :
MBBS (AIIMS), M.Ch. Neurosurgery (AIIMS)
All India Institute of Medical sciences, New Delhi
Fellowships & Advanced Training
CJW Medical Center, Richmond, US,
Hospital Pitie‐Salpetriere, Paris,
University of Amsterdam Medical Center,
Univeristy of Marseilles, France.
Surgical Expertise
Minimal Invasive Brain Surgery- Anterior, Middle and Posterior skull base approaches
Pituitary Adenoma including Endonasal and Endoscopic
Acoustic Schwanomas/ Meningiomas / Craniopharyngiomas
Cranio Vertebral Junction including trans Oral surgeries