Dr. Abhinav Gupta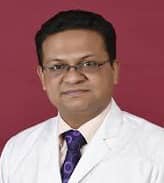 Neurosurgeon
Main Speciality:
Spine Surgeon
Senior Consultant, Fellowship, DNB, MBBS, 19 years of experience New Delhi, India

Send Enquiry
About Doctor:
Dr. Abhinav Gupta is a renowned Neurosurgeon, practising successfully for more than 19 years. He has so far performed nearly 5000 surgeries with highest rate of success.
He has done pioneering work in Endoscopic Brain and Spine surgery in India and worked on the new method of treatment "Brain Suite" bringing great results in Neurosurgery.
He offers treatments for: Stroke, Epilepsy, Headache Management, Spinal Disorders, Parkinson′s Disease, Head Injury, Deep Brain Stimulation, Cervical Spondylosis, Lumbar Spondylosis, Slip Disc, Back Pain, Spine Injury, Sciatica Treatment, Cerebral Palsy Brain Tumor, Paralysis etc.
He was the recipient of Best Neurosurgeon Award at NSI-2010. He also received Gold Medal in MBBS in 1998.
He has the Life Membership and Membership of several prestigious associations like: Neurological Society of India (NSI), Delhi Neurological Society (DNS), Congress of Neurological Surgeons (CNS) USA, World Federation of Interventional Neuroradiologist (WFI TN), International Society of Stereotactic and Functional Neurosurgeons (ISSFN).
Specialization:
Brain Surgery
Spine Surgery
Stroke Treatment
Epilepsy Treatment
Headache Management
Parkinson's Disease Treatment
Spinal Disorders
Head Injury
Deep Brain Stimulation
Cervical Spondylosis
Lumbar Spondylosis
Slip Disc Treatment
Back Pain Treatment
Sciatica Treatment
Spine Injury
Cerebral Palsy
Paralysis
Brain Tumour Treatment
Work Experience of Dr. Abhinav Gupta
Consultant, Sir Ganga Ram Hospital, New Delhi, 2017.
Education:
Fellowship, 2007, University of Chicago
DNB, 2005, Sir Ganga Ram Hospital, New Delhi
MBBS, 1998, Armed Forces Hospital, Pune
Location:
India
Get Expert Opinion from Dr. Abhinav Gupta