Dr. Sudhir K Kapoor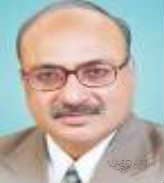 Main Speciality:
Orthopaedic and Joint Replacement Surgeon
HOD , MS, MBBS, 36 years of experience,
New Delhi, India

Send Enquiry
About Doctor
Dr. Sudhir K Kapoor is an Orthopedist practicing successfully more than 36 years. He is extremely skilled in Arthroscopy, Hip Arthroplasty, Trauma Surgery and Orthopaedic procedures. He has been associated with teaching since 1981. As a professor, he was associated with LNJP Hospital and MNMC, New Delhi, LHMC, ESIC, PGIMSR, New Delhi.
Currently, he is the Dean of ESIC, PGIMSR. He had also delivered Guest Lectures and Chaired Sessions in National and Regional Conferences. He was an Invited Faculty in National Conferences and has presented White papers on various topics.
He had organized seminar on Orthotics and Prosthetics in Amar Jyoti Research & Rehabilitation Centre, New Delhi in 1992. He was the Treasurer of Delhi Orthopaedic Association, 1996-2003.
He was the UG & PG examiners for various Universities since 1996 and MCI inspector since1998. He has organized various important conferences that include 3rd International Conference on Trauma & Critical Care held in MAMC in 1999, Annual Conference of DOA & BLS/ATLS Workshop in 2005 and basic Spine & CTEV Workshop during IOANCON at LHMC, in 2006, Cadaveric Knee Arthroscopy Workshop in LHMC in 2007 and14th IOAICL & Cadaveric Fracture Fixation Workshop, 2008.
He has held several important posts during his long career that include Hon Secretary of Delhi Orthopaedic Association from 1999 to 2005, National Board Examiner/Inspector/Appraiser since 2003, Hon Treasurer of Indian Orthopaedic Association from 2003 to 2008, President of Delhi Orthopaedic Association, 2008 and Hon Secretary of Indian Orthopaedic Association 2009 till date.
He is a member of several associations like Delhi Orthopaedic Association, Kerala Orthopedic Association, UP Orthopedic Association, Andhra Orthopedic Association, Secretary of Indian Orthopedic Association, Member of AO Trauma and Member of SICOT.
Specialization
Arthroscopy,
Trauma Surgery,
Education and Training
MS, 1981, Delhi University
MBBS, 1976, Delhi University
Location
India
Get Expert Opinion from Dr. Sudhir K Kapoor