Dr. Shishir Kumar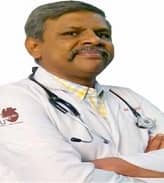 Main Speciality:
Orthopaedic and Joint Replacement Surgeon
Senior Consultant, Ortho, MCh, MS, MBBS, 24+ years of experience,
New Delhi, India

Send Enquiry
About Doctor
Dr. Shishir Kumar is an Orthopedics and Joint Replacement Surgeon with more than 24 years of experience. He was the only surgeon carrying out "Advanced Deformity Correction Surgery" and "Scoliosis" in the Indian Army. He carries out more than 150 joint replacements a year.
He is a member of Indian Orthopedic Association, Delhi Orthopedic Association, Association of Spine Surgeons of India, Delhi Medical Council and Delhi Medical Association. His areas of clinical interest include Revision Spine Surgery, Spine Deformity & Scoliosis Surgery, Minimally Access Spine Surgery and Keyhole & Endoscopic Spine Surgery. Joint replacement surgery, is a procedure of orthopaedic surgery in which an arthritic or dysfunctional joint surface is replaced with an orthopaedics prosthesis. Joint replacement is considered as a treatment when severe joint pain or dysfunction is not alleviated by less-invasive therapies.
Specialization
Keyhole & Endoscopic Spine Surgery,
Minimally Access Spine Surgery,
Revision Spine Surgery,
Spine Deformity & Scoliosis Surgery
Education and Training
Fellowship
D.Ortho
MCh, 2007
MS, 1993, Armed Force Medical College, Pune
MBBS, 1987, Armed Force Medical College, Pune
Location
India
Get Expert Opinion from Dr. Shishir Kumar