Dr. Sameer Ali P
Dr. Sameer Ali P – Orthopaedic and Joint Replacement Surgeon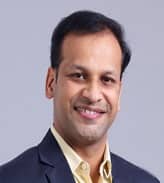 Main Speciality:
Orthopaedic and Joint Replacement Surgeon
11+ years of experience
Qualifications:
MBBS, MS, D.Ortho

Send Enquiry
About Doctor
Dr. Sameer Ali P is a renowned Orthopedic Surgeon with 11+ years of experience. He holds extensive experience in Primary and Revision Joint Replacement of Hip, Knee & Shoulder, Arthroscopic Surgeries of Knee, Shoulder, Elbow & Hip, Complex Navigated Primary & Revision Joint Replacement, Complex Shoulder & Knee Arthroscopy, and Cartilage preservation surgeries of Knee & Ankle.
He completed his MBBS from ACME, Pariyaram in 2005 followed by MS in Orthopedic and D.Ortho from Government Medical College, Thiruvananthapuram in 2010. In 2013, he attained a fellowship in Joint Replacement and Arthroscopic surgery from Germany.
In 2016, he completed a special fellowship in Revision Joint Replacement from Lancaster General Hospital, USA. He is the first surgeon in North Kerala to have performed Reverse Shoulder Replacement. He has also conducted around 1000 primary and 200 revision hip, knee, and shoulder replacement surgeries.
Specialization
Primary and Revision Joint Replacement of Hip, Knee & Shoulder
Arthroscopic Surgeries of Knee, Shoulder, Elbow & Hip
Complex Navigated Primary & Revision Joint Replacement
Complex Shoulder & Knee Arthroscopy
Cartilage preservation surgeries of Knee & Ankle
Education
MBBS, 2005, ACME, Pariyaram
MS, 2010, Government Medical College, Thiruvananthapuram
D.Ortho, 2010, Government Medical College, Thiruvananthapuram
Location
India
Get Expert Opinion from Dr. Sameer Ali P