Dr. Saif Nabi Shah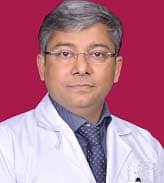 Main Speciality:
Orthopaedic and Joint Replacement Surgeon
Senior Consultant , Fellowship, Diploma, MCh, MBBS, 20 years of experience,
New Delhi, India

Send Enquiry
About Doctor
Dr. Saif Nabi Shah is orthopedics and joint replacement surgeon with 20+ years of experience. His areas of expertise include complex intra-articular, upper and lower limbs, metaphyseal, emergency intubation and stabilization of shocked patients.
He is a member of the Indian Orthopedic Association, Indian Society of Hip and Knee Surgeons and International Society for Knowledge for Surgeons on Arthroscopy and Arthroplasty. He completed his MBBS from Aligarh Muslim University, Aligarh, MCh in Ortho, Diploma in Orthopedics from Aligarh Muslim University, Aligarh and Fellowship in Joint Replacement from Germany.
Dr. Saif has many publications under his name in national and international journals. He has attended several orthopedics workshops, including 3rd Joint Replacement State of Art, Trauma Criti Care 2004, CME, Programme cum workshop, Orthopedics Update 2003 and more.
Specialization
Complex intra-articular,
Upper and lower limbs surgery,
Metaphyseal,
Emergency intubation
Education and Training
Fellowship, 2008, (Arthoplasty) Rockland Hospital, Qutab
Diploma, (Orthopedics) Aligarh Muslim University, Aligarh
MCh
MBBS, Aligarh Muslim University, Aligarh
Location
India
Get Expert Opinion from Dr. Saif Nabi Shah