Dr. Ramani Narasimhan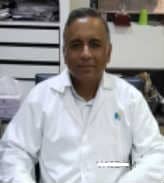 Main Speciality:
Orthopaedic and Joint Replacement Surgeon
Senior Consultant , Fellowship, Fellowship, MS, MBBS, 33 years of experience,
New Delhi, India

Send Enquiry
About Doctor
Dr. Ramani Narasimhan is a well-known Pediatric Orthopaedician with an experience of 33+ years. Dr. Narasimhan specializes in traumatic and non-traumatic orthopedic disorders and diseases.
He is a recipient of "Dr. B. N. Sinha gold Medal" award for being the best Resident Orthopedic and outstanding clinical thesis work, awarded by the Lucknow University in 1991. He has also received the prestigious "Exemplary Contribution Award" for Pediatric Orthopedics awarded by the IMA in 2008.
Dr. Narasimhan is a Member of multiple reputed organizations namely the Indian Orthopedic Association (IOA), Association of Spinal Surgeons India (ASSI) and Indian Academy of Cerebral Palsy (IACP) among others. He has been the Ex-President of Pediatric Orthopedic Society of India (POSI) and Secretary of Pediatric Orthopedic Foundation (POF).
The doctor has actively participated at several workshops and presented papers at various annual conferences such as Pediatric Orthopedic Society of India (POSICON) (Vadodara, 2005; Allahabad, 2004; Vellore, 2003; Delhi and Mumbai, 2002; Madurai, 2001), Meet at 'Ghaziabad Orthopaedic Club' (Ghaziabad,2002), the Arthroscopic Society meeting held by Indian Orthopaedic Association (IOACON) (Pune, 1995; Bangalore 1994), IOA Instructional Course on "Hip Disorders" at the All India Institute of Medical Sciences, (New Delhi, 1995) and "2nd International Course on Spinal Surgery and Workshop on Spinal Fixation Systems" (Coimbatore, 1996). Addressed 'Decision Making in Ambulatory Pediatrics' at Sir Gangaram Hospital (August, 2002), 'Indian Academy of Pediatricians (IAP) – Gurgaon' meet (Gurgaon, 2000) and 20th annual convention of 'Indian Medical Association (IMA),1999 as a Guest Speaker.
Specialization
Acute and chronic non traumatic Orthopedic Disorders,
Fracture surgery,
Sports Injury,
Joint Replacement,
Surgery of bone and Joint disease and disorder,
Upper limb orthopedic surgery,
Accident and emergency care,
Arthroscopy,
Education and Training
Fellowship, Educational Commission for Foreign Medical Graduates, USA
Fellowship, 1998, Connecticut Children's Medical Center, Hartford, USA
MS, 1991, King George's Medical College, Lucknow
MBBS, 1985, Maulana Azad Medical College, New Delhi
Location
India
Get Expert Opinion from Dr. Ramani Narasimhan