Dr. Punit Dilawari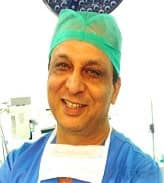 Main Speciality:
Orthopaedic and Joint Replacement Surgeon
Additional Director , MS, MBBS, 20 years of experience,
New Delhi, India

Send Enquiry
About Doctor
Dr. Punit Dilawari is a renowned Orthopaedics with more than 22 years of experience. He has membership with Indian Medical Association (IMA), Indian Orthopaedic Association, and Indian Arthroscopy Society.
He has expertise over the treatment of Injury to the spine, Scoliosis, Spinal stenosis, Spinal tumor, Fractures, Spinal cord injuries, Heat Therapy Treatment, High-Risk Wound Care, Foot Assessment, Knee Pain Treatment, Joint Pain Treatment, and Joint and Muscle Problems. Dr. Punit has publications in medical journals.
Specialization
Bone deformities
Bone infections
Bone tumors
Need for amputation
Nonunions: failure of fractures to heal
Malunions: fractures healing in a wrong position
Spinal deformities
Arthritis
Bursitis
Dislocation
Joint pain
Joint swelling or inflammation
Ligament tears
Bunions
Fasciitis
Foot and ankle deformities
Hammer toe
Heel pain
Heel spurs
Joint pain and arthritis
Sprains
Tarsal tunnel syndrome
Sesamoiditis
Tendon or ligament injury
Cartilage and meniscus injuries
Dislocation of the kneecap (patella).
Education and Training
MBBS, University of Kashmir
Diploma, Gazi Medical College
DNB, National Borad of Examinations Ministry of Health Government of India.
Location
India
Get Expert Opinion from Dr. Punit Dilawari