Dr. K. K. Mishra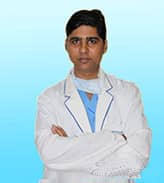 Main Speciality:
Orthopaedics
Senior Consultant , MBBS, MS, 11 years of experience,
New Delhi, India

Send Enquiry
About Doctor
Currently associated as Senior Consultant at the department of Orthopaedics at Primus Super Speciality Hospital, Delhi. Specializes in Deformity Correction and Limb Lengthening, Failed Orthopaedic Correction and Shoulder Joint Replacement.
Holds specialization in Shoulder Joint Replacement, Pelvic Acetabular Surgery & Deformity Correction And Limb Lengthening, Failed Orthopaedic Correction.
Member Of IOA:
1. Registered On Tanzanian Medical Council And Nigerian Medical Council. 2. Performed First Uncemented Hip Replacement Of Tanzania Country In 2011.3. Designer Of Orthopaedic Implant And Instruments.
Specialization
Pelvic Acetabular Surgery & Deformity Correction And Limb Lengthening,
Failed Orthopaedic Correction
Education and Training
Location
India
Get Expert Opinion from Dr. K. K. Mishra