Dr. Dharmesh Khatri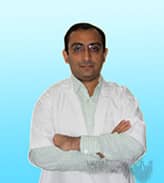 Main Speciality:
Orthopaedic and Joint Replacement Surgeon
Senior Consultant , MBBS, MS, 14 years of experience,
New Delhi, India

Send Enquiry
About Doctor
Dr. Dharmesh Khatri is an experienced Joint Replacement Surgeon working as Senior Consultant. He has more than 14 years of experience in Joint Replacement and Orthopedics. Holds specialization in Hip, Knee and shoulder replacement Primary and revision & High Tibial Corrective osteotomy. Procedures he performs on are Spinal Fusion, Arthroscopy, Joint Dislocation, Primary Hip and Knee Arthroplasty, Knee Braces for Osteoarthritis.
Worked on various research projects at AIIMS including the CSIR (Council for Science and Industrial Research). Member of Indian Orthopedic Association, Indian Medical Association, Indian Federation of Sports Medicine, Indian Arthroscopy Association.
Specialization
Education and Training
MBBS, 2003, AIIMS, New Delhi
MS, 2006, AIIMS, New Delhi.
Location
India
Get Expert Opinion from Dr. Dharmesh Khatri