Dr. Dharmendra Singh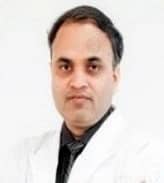 Main Speciality:
Orthopaedic and Joint Replacement Surgeon
Director , MBBS, D.Ortho, DNB, 16 years of experience,
Gurgaon, India

Send Enquiry
About Doctor
Dr. Dharmendra Singh is a renowned Orthopaedics & Joint Replacement Surgeon with an experience of more than 16 years. His special areas of interest include Knee and Joint Replacement, Knee Surgery, Spine Surgery, Spinal Fusion, Vertebroplasty, Kyphoplasty, back pain, arthritis, fractures. broken bones, torn ligaments & muscles, muscle strains & sprains, work injuries, bone tumors, and age-related conditions like osteoporosis.
Dr. Dharmendra Singh is also an expert in resolving issues such as Osteoporotic spinal fractures management, Lumbar and cervical disc surgery, Minimally invasive spine surgery and Treatment of degenerative spine, etc. He has done Fellowship in Spine Surgery from St Thomas' Hospital London in 2011. Dr. Singh has publications in several medical journals.
Specialization
degenerative spine
Lumbar and cervical disc surgery
Cervical disc replacement and fusions surgery
Potts (TB spine) spine surgery
Spinal injuries management
Complex spine surgery
Osteoporotic spinal fractures management (vertebroplasty)
kyphoplasty, and fenestrated pedicle screws fixations)
&Scoliosis and Kyphosis spinal deformity correction
Education and Training
MBBS, Motilal Nehru Medical College Allahabad University, Allahabad
D.Ortho, Motilal Nehru Medical College Allahabad University, Allahabad
DNB, National Board of Examinations, New Delhi
Location
India
Get Expert Opinion from Dr. Dharmendra Singh