Dr. Balvinder Rana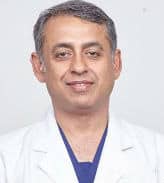 Main Speciality:
Orthopaedic and Joint Replacement Surgeon
Associate Director , MS, MBBS, 20 years of experience
Gurgaon, India

Send Enquiry
About Doctor
Dr. Balvinder Rana is an orthopedic surgeon with 20+ years of experience. He is a member of Education Committee, American Orthopedic Foot and Ankle Society, Indian Ankle Surgery at various national and international conferences including lectures in Asian Federation of Foot and Ankle Societies' conference in Japan, 2016.
Dr. Rana specializes in Ankle arthroscopy, Foot and Ankle deformity correction, Diabetic foot, Foot and Ankle Surgery, Flat foot and bunion reconstruction surgery, Total Ankle Replacement, Charcots Foot and Ankle, Ankle Ligament injuries, Foot and Ankle arthritis and reconstruction and tendon problems in Foot and Ankle. He has written and published book chapters on trauma and Foot and Ankle Surgery.
Specialization
Foot and Ankle deformity correction,
Flat foot and bunion reconstruction surgery,
Diabetic foot,
Charcots Foot and Ankle,
Foot and Ankle arthritis,
Ankle Ligament injuries,
Reconstruction and tendon problems in Foot and Ankle,
Orthopedic Trauma including complex fractures
Education and Training
MS Orthopedics from MGIMS, Sevagram, Wardha, India Nagpur University ( September 1995 – November 1998)
MBBS from MGIMS, Sevagram, Wardha, India Nagpur University (August 1987 to December 1991)
Location
India
Get Expert Opinion from Dr. Balvinder Rana