Dr. Ashu Consul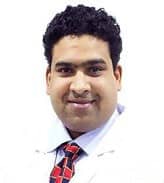 Main Speciality:
Orthopaedic and Joint Replacement Surgeon
Senior Consultant , Fellowship, MRCS, MCh, MS, MBBS, 19 years of experience,
New Delhi, India

Send Enquiry
About Doctor
Dr. Ashu Consul is a reputed Orthopaedist and Joint Replacement surgeon practicing successfully for 19+ years. In his career spanning over nearly two decades, he has performed 10000 successful surgeries including more than 2500 Arthroscopy and Joint Replacements.
He is proficient in performing keyhole surgery for joints (Arthroscopy), Minimally Invasive Joint Replacement Surgery, Hand Surgery, primary and complex neglected trauma, Arthroplasty and Ilizarov technique. Dr. Ashu Consul has been teaching postgraduate Orthopaedic students at Vardhman Mahavir Medical College, New Delhi for the last 7 years and serving as an examiner of Viva and presentation of graduate and postgraduate students in different major medical colleges in Delhi-NCR.
He has attended conferences and workshops, held in India and abroad and presented papers in them. These are AO Principle course in trauma, Rohtak, Haryana, Delhi Knee course, organized by Delhi Institute of Trauma and Orthopaedics Sant Parmanand Hospital, Delhi, Basic Cadaveric Arthroscopy skill course conducted by Indian Arthroscopy Society, Delhi IOACON, Delhi, and IOACON, Delhi
The doctor is a member of several prestigious associations such as Delhi Medical Council, Delhi Medical Association (DMA), International Society for Knowledge for Surgeons on Arthroscopy and Arthroplasty, Indian Orthopaedic Association and Infection Control Team. He is also engaged in research and has published numerous papers in noted National and International medical journals.
Specialization
Hand Pain
ACL Reconstruction
Knee Osteotomy
https://safemedtrip.com/medical-services/orthopedic-surgeries-treatment-in-india/knee-replacement-surgery-hospital-india.htmlKnee Replacement
Knee Braces For Osteoarthritis
Arthroscopy
Joint Replacement Surgery
Fracture Treatment
Joint Dislocation Treatment
Skeletal Dysplasia
Limb Lengthening
Arthritis Management
Correction of deformities
Musculoskeletal Infections
Childhood bone and soft tissue tumors
Limb Deformities
Pain Management Counseling
Lower Back Pain
Shoulder Pain
Revision Hip and Knee Arthroplasty
Ligament Reconstruction
Orthopedic Surgery
Post Surgery Physiotherapy/Rehabilitation
Exercise Therapy
https://safemedtrip.com/medical-services/orthopedic-surgeries-treatment-in-india/knee-replacement-surgery-hospital-india.htmlMinimally Invasive Knee Correction
Rotator Cuff Injury Treatment
Education and Training
Fellowship, Sports Injury Center, New Delhi.
MRCS
MCh, 2008, Ortho-American Institute of Medicine, Seychelles
MS, 2005, Central Institute of Orthopaedics, Safdarjung Hospital, University of Delhi
MBBS, 2000, Maulana Azad Medical College and Loknayak Hospital
Location
India
Get Expert Opinion from Dr. Ashu Consul