Dr. Ashish Taneja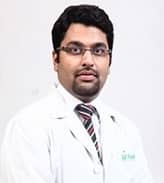 Main Speciality:
Orthopaedic and Joint Replacement Surgeon
Senior Consultant , MBBS, MS, Fellowship, Fellowship, 15 years of experience
Gurgaon, India

Send Enquiry
About Doctor
Dr. Ashish Taneja is a renowned Orthopaedist and Joint Replacement Surgeon practicing successfully for more than 15 years. He is proficient in performing Primary and Revision Joint Replacement surgery, Uni-compartmental Knee Arthroplasty, Computer Navigated Knee Replacement, and Arthroscopic knee surgery.
Besides, he offers treatment for Orthopaedic Trauma, Spondylosis, Fracture, Joint Dislocation, etc. The doctor is a recipient of awards such as Best Research Paper Award – University of Calgary, May 2016 and CUHK-AADO Scholarship April 2010, Hong Kong.
He is a member of multiple prestigious associations that include: Indian Society of Hip and Knee Surgeons (ISHKS), Indian Arthroplasty Association (IAA), International Society for Knowledge for Surgeons on Arthroscopy and Arthroplasty (ISKSAA), Delhi Orthopaedic Association (DOA), Delhi Medical Council (DMC), SICOT (International Society of Orthopaedic Surgery and Traumatology), AADO (Asian Association for Dynamic Osteosynthesis) and World Orthopaedic Concern.
Specialization
Radiofrequency Neurotomy
Joint Replacement Surgery
Primary and Revision Joint Replacement
Unicompartmental Knee Arthroplasty
Computer Navigated Knee Replacement
Arthroscopic knee surgery
Orthopedic Trauma
Education and Training
MBBS, 2004, Delhi University
MS, 2007, Orthopaedics, PGIMER, Chandigarh
Fellowship, 2015, Joint Preservation (Hip and Knee replacement and reconstruction), University of Missouri, Columbia
Fellowship, 2017, Joint Replacement Surgery, University of Calgary, Canada
Location
India
Get Expert Opinion from Dr. Ashish Taneja