Dr. Amit Chaudhry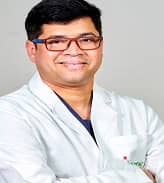 Main Speciality:
Orthopaedic and Joint Replacement Surgeon
Consultant , DNB, MBBS, 9 years of experience,
Gurgaon, India

Send Enquiry
About Doctor
Dr. Amit Chaudhry is an orthopedic surgeon with 9+ of experience. He is a Member Indian Orthopedics Association (IOA) and International Society for Surgeons on Arthroscopy and Arthroplasty (ISKSAA). He joined Indian Armed Forces and served in the premier hospitals of Indian Army, like Base Hospital, Delhi; Military Hospital, Kirkee – Pune (the orthopedic referral centre of Indian Army) and at Base Hospital, Sri Nagar (J&K).
His expertise lies in Arthroscopic Surgery (Knee and Shoulder), including Arthroscopic meniscectomies, ACL reconstructions, Synovectomies, Arthroscopic Frozen Shoulder release, Bankart's repair for Recurrent Dislocations of the shoulder, Subacromial Decompressions, Total Knee and Hip Replacement including Primary Total Hip Replacements (Cemented & Uncemented).
He has been awarded Director General BSF commendation card for his relentless service and professional capabilities in Armed Forces. He was a part of the medical team deployed for rescue operations in flood-hit Kashmir.
Specialization
Heat Therapy Treatment
Diabetic Foot Check-Up
Foot Injury Treatment
High-Risk Wound Care
Lower Extremity Wound Care
Ankle-Brachial Index
Foot Pressure/Vascular Assessment
Neuropathy Assessment
Foot Assessment
Foot Drop
Joint Mobilization
ACL Reconstruction
Arthroscopy
Spinal Therapy
Education and Training
DNB, 2011, National Board of Education, New Delhi.
MBBS, 2005, Rajasthan University of Health Science, Jaipur.
Location
India
Get Expert Opinion from Dr. Amit Chaudhry