Dr Aman Dua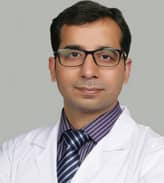 Main Speciality:
Orthopaedic and Joint Replacement Surgeon
Senior Consultant , MBBS, MS, DNB, 13 years of experience,
New Delhi, India

Send Enquiry
About Doctor
Currently associated as a Senior Consultant Orthopaedics and Joint Replacement at Primus super Speciality Hospital, New Delhi. Specializes in Complex primary Total Hip and Knee Replacment, Bone Banking and use of Bone Allograft in Joint Replacement Surgeries, to name a few.
Researched extensively on Bone Allograft in Revision Total Hip Replacement and Dome osteotomy for post-traumatic cubitus varus. Previously worked as a Senior Registrar at AIIMS, New Delhi. Member of the prestigious organisations like Indian Orthopaedic Association, Indian Society of Hip and Knee Surgeons and Indian Arthroscopy Society.
Specialization
Education and Training
Location
India
Get Expert Opinion from Dr Aman Dua