Dr. Neerav Goyal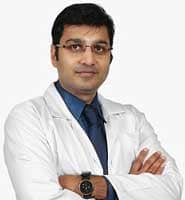 GI and Liver Transplant
Main Speciality:
GI and Liver Transplant
25 + years of experience
Qualifications:
MBBS, DNB (Surgery), DNB (GI and Liver Transplant) Senior Consultant- Institute of Transplants, Department- Liver Transplant, GI and HPB surgery Indraprastha Apollo Hospital, New Delhi, India

Send Enquiry
Profile:
Dr. Neerav Goyal is one of the leading liver specialists in the country. He also performs Hepato Pancreato Biliary surgeries and finds extensive interest in performing Living Donor Liver Transplant surgery. He is one of the primary surgeons at the Centre for Liver and Biliary Surgery and assists in all the major operations performed at the centre. With several firsts to his name, Dr. Neerav Goyal performed successfully the first pediatric living donor liver transplant, the first right lobe liver transplant and the first adult cadaveric liver transplant in India.
Dr. Neerav Goyal has an experience of more than two decades in liver transplant and HPB surgery and has performed over 2100 liver transplants surgeries in his career till date. This includes more than 500 cadaver liver transplants and 220 pediatric liver transplants. He provides the best services suitable to the need of his patients and has successfully handled a large number of cases affecting the liver, pancreas, gall bladder, GI tract and Biliary tract.
With trainings from renowned medical institutions, Dr. Neerav Goyal is one of the top surgeons in India for liver transplant surgeries. He is a member of prestigious associations and has won several awards and accolades in his career. He has also published several papers in national and international medical journals and is involved in the DNB teaching program for GI surgery at Indraprastha Apollo Hospital. He regularly attends conferences and seminars and delivers speeches and presentations both in the national and international forum.
He has performed whole range of advanced GI surgical procedures including Whipple's pancreaticoduodenectomy to colonic interposition in corrosive injuries. He has also performed more than 500 non-transplant liver resections including radical cholecystectomies and segmental liver resections. With special interest GI cancers, he believes in providing holistic approach for treating patients. Pancreaticoduodenectomy and biliary injuries specially interest him as a gastro surgeon. Other than surgical experience, he has great interest in academics and writing articles in international journals and presentations in international meetings.
Location
India
Get Expert Opinion from Dr. Neerav Goyal