Dr. Vishal Agarwal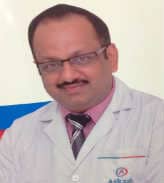 Main Speciality:
Cardiac Sciences, Cardiac Surgery (CTVS)
Head of Department , MBBS, MS, MCh, 17 years of experience,
Gurgaon, India

Send Enquiry
About Doctor
Dr. Vishal Agarwal has an experience of more than 17 years in Cardiac Surgery. Dr. Agarwal has performed and started Open Heart Surgery Programme (OPCABG) at Yashoda Super Speciality Hospital (Ghaziabad), Awake Open Heart Surgery (Western UP) and the first Bentall procedure with CABG of Pan Paras Group. He has also performed 1st TAR-OPCAB repair of RSOV, Total ICR in DCRV with inlet VSD and first composite CABG with AVR in Western UP.
Excluding all, he has performed India's first case out of the total 11 cases in the world of QAV+ Severe AR+ Anomalous RCA.
In his prolific career, he has operated the first case of ROSS Procedure at Pan Paras Group, has operated Total Intra Cardiac Repair of Complex CHD, Cor-Triatriatum with Ostium Primum ASD with severe MR with LSVC draining into LA and Endo-Vascular Abdominal Aorta Stenting for dissection of descending aorta. He Performed Beating Heart CABG on a patient with 13-15% ejection fraction.
Dr. Agarwal has performed and started a programme of first Paediatric Open Heart Surgery with on Table Extubation under ultrafast extubation procedure. He also got the privilege of making Paras the 3rd Center in North India to perform Cardiac Surgery at satellite centres in the vicinity like Columbia Asia Hospital, Gurgaon, QRG Hospital, Faridabad, Rama Medical.
Specialization
Cardio Thoracic & Vascular Surgery, Beating Heart Surgery, Awake Open Heart Surgery & Redo CABG.
Education and Training
MBBS, 2000, Aurangabad University, Maharashtra
MS, 2003, Aurangabad University, Maharashtra
MCh, 2008, LPS Institute of CTVS, Kanpur (U.P.)
Location
India
Get Expert Opinion from Dr. Vishal Agarwal.