Dr. Vijay Agarwal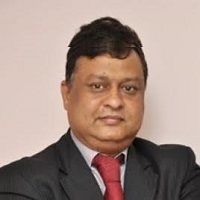 Dr. Savitri Shrivastava – Paediatric Cardiology
Main Speciality:
Pediatric Cardiac Surgeon
16+ Years of Experience
Qualifications:
MBBS, MS – General Surgery, MS – Paediatrics Surgery, FRCS – General Surgery

Send Enquiry
About:
Dr Vijay completed his medical education from Kolkata and basic training in Cardiac surgery in Lucknow following which he completed 4 years of training in the UK in University college of London and AlderHey Children Hospital Liverpool. He has worked in Sathya Sai Institute at Puttaparthy, Andhra Pradesh and The Madras Medical Mission as a Consultant Surgeon before joining the Fortis Hospital Mumbai.
Work Experience:
Operated both adult and paediatric cases independently and also supervised training of M.ch trainee residents. The case range includes
Coronary Surgery-Performing mostly beating heart and on Pump.
Valve Surgery-Performed both Mitral and Aortic valve replacement. Also performed Mitral valve repair and Aortic root enlargement procedures for small aortic annulus.
Successfully conducted combination procedures such as CABG, Mitral and Aortic Valve replacement and Aortic Root replacement. (Bentall Procedure) and Yacoub repair for VSD and AR.
Paediatric Cardiac surgery- special interest in Paediatric Cardiac surgery and have performed ASD, VSD, Subaortic membrane, Tetralogy of Fallot, TOF with absent pulmonary valve, Single Ventricle repair(BD glenn and extracardiac Fontan), TAPVC, ALCAPA and surgery for Ebsteins anomaly(Carpentier repair), Truncus arteriosus repair, Arterial switches etc.
Area of Interest:
The Arterial switch operation in new born babies.
Awards & Achievements:
Class Assistant prize for Best student in Surgery – 1991 – Calcutta University.
Shanks Silver Medal in Clinical Pathophysiology – 1991 – Calcutta University.
Publications:
Various articles published in national & international Journals. Actively participated in workshops on pediatric cardiology & conducted presentations in international conferences.
Location
India
Get Expert Opinion from Dr. Vijay Agarwal