Dr. Vanita Arora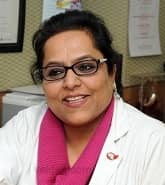 Main Speciality:
Interventional Cardiologist
Director , MBBS, MD, DNB, MNAMS, 22 years of experience
New Delhi, India

Send Enquiry
About Doctor
As the first female electrophysiologist of India, Dr. Vanita Arora is a pioneer female Cardiac Electrophysiologist in the country. Dr. Arora has earned Awards like "Rising Star in Cardiology", "Woman Doctor Entrepreneur of year 2018", "Chikitsa Ratan" along with several other outstanding achievements in her medical career spanning more than two decades and is currently the Director and Head of Cardiac Electrophysiology Lab and Arrhythmia Services at Max Hospital, Delhi.
Presently working as Associate Director and In-charge of Cardiac Electrophysiology Lab & Arrhythmia Services at Max Hospital, Patparganj. Performed more than 2500 radio frequency ablations, 2500 permanent pacemaker implantations, 1500 biventricular pacemaker implantations, 400 3D mapping radiofrequency ablation of the complex arrhythmias.
Expertise in Cardiology, Cardiac Ablation, Blood Vessels, Angiogram, Cardiac Catheterization, Cardioversion, Cardiac MRI and many other heart related treatments. Distinguished Service Award" Bestowed upon by His Excellency, Bharat Ratna Dr. A. P. J. Abdul Kalam for outstanding contribution.
Specialization
Cardiac Ablation,
Blood Vessels, Angiogram,
Cardiac Catheterization,
Cardioversion, Cardiac MRI
Education and Training
M.B.B.S, MD (Internal Medicine), DNB (Cardiology)
Fellow – Royal College of Physicians, Edinburgh (FRCP)
MNAMS, FIMSA (Fellow – International Medical Specialties Association)
FCSI (Fellow – Cardiology Society of India)
FISE (Fellow – Indian Society Electrocardiology)
FCAPSC (Fellow – College of the Asia Pacific Society of Cardiology)
Fellowship – Complex Arrhythmias, Milwaukee, USA
Fellowship – Biventricular Pacemaker, Magdeburg, Germany
Observership under the guidance of Dr. Peter Ott, Dept. of Electrophysiology & Pacing, Tuscon Heart Centre, Tuscon, USA
Location
India
Get Expert Opinion from Dr. Vanita Arora