Dr. Smita Mishra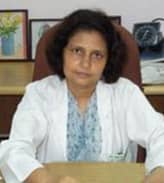 Main Speciality:
Pediatric Cardiologist
HOD , MBBS, MD, DNB, 33 years of experience,
New Delhi, India

Send Enquiry
About Doctor
Paediatrics Cardiologist with 33+ years of experience. Represented as convener of 1st National consensus meet on Rheumatic Fever and Rheumatic Heart Diseases in children in 2007. Specializes in Interventional Pediatric Cardiology, and Noninvasive Pediatric Cardiology.
Her wide area of expertise includes Pediatric Cardiology- Noninvasive imaging, Fetal Echocardiography, Transthoracic and Esophageal Echocardiography, 3D Echocardiography, Pediatric Cardiology- Intervention, ASD, VSD & PDA device closure, Valvuloplasties (Pulmonary, Aortic valvotomy) and Coarct ballooning and stenting.
Specialization
Atrial Septal Defects,
Congenital Valve Problems,
Arrhythmias,
Congenital Heart Disease,
Kawasakis disease
Education and Training
MBBS, SS Medical College,Rewa
MD, SS Medical College,Rewa
DNB, Escorts Heart Institute, New Delhi
Location
India
Get Expert Opinion from Dr. Smita Mishra