Dr. Sameer Mehrotra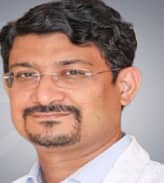 Main Speciality:
Interventional Cardiologist
Senior Consultant , MD, MBBS, 21 years of experience,
Gurgaon, India

Send Enquiry
About Doctor
Dr. Sameer Mehrotra is an intervention cardiologist doing Primary and Elective Angioplasties, Rhythm specialist doing Electrophysiology (EP) and Ablation Procedures like VT, AF ablation and Certified device specialist performing PPI and CRT-D implantation.
His expertise lies in treating Rheumatic Heart Disease, Coronary Angioplasty, Coronary Angiogram, Pacemaker Implantation, Electrocardiography (ECG), Angiography, and Chest Pain Treatment. He has publications in several reputed jinternational as well as national medical journals.
Specialization
Rheumatic Heart Disease Treatment
Coronary Angioplasty / Bypass Surgery
Coronary Angiogram
Heart Conditions
Pacemaker Implantation
Hypertension Treatment
Electrocardiography (ECG)
Electrophysiology
Angiography Radial Approach
Chest Pain Treatment
Cardiac Ablation
Mitral/Heart Valve Replacement
Acute Aortic Dissection
Heart Transplant
Cardiac Catheterisation
Education and Training
MD, 2002, Banaras Hindu University.
MBBS, 2000, Institute of Medical Sciences, Banaras Hindu University.
Location
India
Get Expert Opinion from Dr. Sameer Mehrotra.