Dr. Rajiv Passey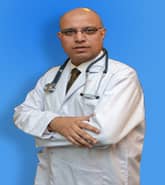 Main Speciality:
Interventional Cardiologist
Senior Consultant, MBBS, DM, MD, DNB, 15 years of experience,
New Delhi, India

Send Enquiry
About Doctor
Currently associated as a Senior Cardiologist at Sri Gangaram Hospital. Expertise in non-coronary interventions, including Renal Artery Stenting. Specializes in Interventional Cardiology, Cardiac Pacing & Device Implantation, to name a few.
Gold medallion of Indian College of Physicians. Member of prestigious organisations like Cardiological Society of India, Indian Medical Association, Association of Physicians of India and Delhi Medical Association, amongst others.
Specialization
Education and Training
Location
India
Get Expert Opinion from Dr. Rajiv Passey