Dr. Prof Narendra Nath Khanna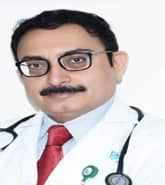 Main Speciality:
Interventional Cardiologist
Senior Consultant, MD, DM, MNAMS, FACC, FESC, FSCAI, FCCP, FAPSIC, FIMSA, FEISI, FICC, FIAMS, 17 years of experience,
New Delhi, India

Send Enquiry
About Doctor
Dr. (Prof) Narendra Nath Khanna is an Interventional Cardiologist with 17+ years of experience. He is a Member of various reputed organizations such as National Academy of Medical Sciences, European Atherosclerosis Society Academy of Transcatheter Cardiovascular Therapeutics, USA American Heart Association (Stroke and Radiology council), USA European Society of Cardiology, Cardiological Society of India, Indian College of Cardiology Vascular Society of India, Angiological Society India, European Association of Percutaneous, Asia Pacific Vascular Society Association of Physicians of India, Indian Academy of Echocardiography, Indian Medical Association (IMA), and many more.
He has world wide recognition for his role and passion for "bringing the cutting edge technology to India and to bring cardiac care to the reach of common man.
He is on the Editorial Board of Indian Heart Journal and Deputy Editor and Chief of Quarterly Journal of Angiology. The Professor has also authored 26 book chapters and has written about 120 publications in various national and international journals to his credit.
His expertise lies in endovascular and peripheral vascular interventions and has pioneered techniques for percutaneous mechanical pulmonary thrombectomy and techniques for Endovascular Treatment of Aortic Aneurysms, ischemia & gangrene of the limbs, etc.
Specialization
Coronary Angiography
Neonatal & Paediatric Echocardiography
Stress Echocardiography – Coronary
Angiography (CAG)-Peripheral
Vascular Doppler Study
Coronary Angioplasty (PTCA)
Valvotomies (Mitral, BMV, Pulmonary, Aortic)
Electrophysiology
Education and Training
MBBS, 1989, King George's Medical College, Lucknow
MD, 1992, University of Lucknow
DM, 1996, Kanpur University
Location
India
Get Expert Opinion from Dr. Prof Narendra Nath Khanna