Dr. Narendra Agarwal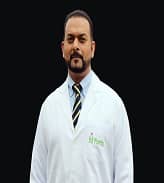 Main Speciality:
Cardiac Surgeon
Consultant , MBBS, MS, Fellowship, Fellowship, 7 years of experience,
Gurgaon, India

Send Enquiry
About Doctor
Dr. Narendra Agarwal is a renowned Cardiothoracic Surgeon with experience of over 7 years. He has acquired skills in performing Video-Assisted Thoracoscopic Surgery (VATS) drainage of multiloculated Empyema, Decortications, lung resection, Bullectomy and Pleurectomy, and Mediastinal masses.
Besides, he is adept in carrying out Robotic surgery for Mediastinal tumors and Lung resections. He is the recipient of several awards.
Dr. Narendra is a member of several prestigious associations such as Indian Society of Thoracic Surgery (ISTS), European Society of Thoracic Surgery (ESTS), Asian Thoracoscopic education program (ATEP) and Indian Association of Gastro Endoscopic Surgeons (IAGES)
The doctor also has been associated with research and has publications to his credit in noted National and International journals.
Specialization
Video Assisted Thoracic Surgery (VATS) drainage of multi-loculated Empyema
Decortications
Lung resection
Bullectomy
Pleurectomy
Mediastinal masses
Robotic surgery for Mediastinal tumors
Robotic surgery for Lung resections
Education
MBBS, 2003, Rajiv Gandhi University of Health Sciences, Bangalore, India
MS, 2007, General Surgery, DY Patil University
Fellowship, 2010, FCPS, General Surgery, College of physicians and Surgeons Mumbai
Fellowship, 2013, Minimal Access Surgery, National University of Singapore, Singapore
Training, Uniportal VATS, Shanghai Pulmonary Hospital
Training, Robotic Thoracic Surgery, University of Alabama USA.
Location
India
Get Expert Opinion from Dr. Amit Chandra.