Dr. Kuldeep Arora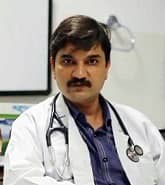 Main Speciality:
Interventional Cardiologist
Senior Consultant , MBBS, MD, DM, 16 years of experience,
Gurgaon, India

Send Enquiry
About Doctor
Dr Kuldeep Arora is Senior Consultant Cardiologist, he has 16 years of experience in interventional cardiology and has successfully performed over 12,000 therapeutic cardiac interventions including coronary angioplasties, permanent pacemaker implantations, AICD's, biventricular pacemakers and atrial septal defect device closure procedures.
He completed his D.M Cardiology from Sri Jayadeva Institute of Cardiovascular Sciences and Research (SJIC) Bangalore. Later served there in SJICR Bangalore as lecturer and Assistant Professor of Cardiology. Before joining Artemis Hospital he was working as Associate Director Cardiology in Paras Hospitals Gurgaon.
He specializes in angiography & angioplasty via the radial route. A part from heart attack management, he has also expertise in pacemaker, ICD, CRT implantation, and device closure of atrial septal defects. A part from expertise in coronary angioplasties, his focus is increasing public awareness of heart disease.
Specialization
Interventional Cardiology,
TransRadial Angiography and Angioplasty
TransRadial Peripheral Intervention & EPS and PPI
AICD, CRT and CRT+D implantation
Education and Training
MBBS, 1999, Government Medical College, Jabalpur
MD, 2002, Gandhi Medical College ,Bhopal
DM, 2007, Sri Jayadeva Institute of Cardiovascular Sciences and Research Bangalore
Location
India
Get Expert Opinion from Dr. Kuldeep Arora.