Dr. Hemant Gandhi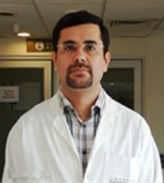 Main Speciality:
Interventional Cardiologist
MBBS, MD – Medicine, DM – Cardiology, Cardiologist 15 Years Experience Overall (10 years as specialist)
Gurgaon, India

Send Enquiry
About Doctor
Dr. Hemant Gandhi has over 10 years of experience in the field of interventional cardiology. He specializes in complex coronary interventions, transradial angiography and angioplasty, permanent pacemaker, AICD and biventricular pacemaker implantation (CRT-P and CRT-D), device closure of congenital heart defects like ASD and PDA, peripheral angiography and angioplasty and balloon valvuloplasty. He was the first D.M. (Cardiology) candidate to have passed out from the prestigious PGIMER and Dr. RML Hospital, New Delhi. He was actively involved in the training of medical students in the subject of Cardiology and has a large number of publications to his credit.
Specialization
Pediatric Interventions,
Transradial Interventions,
Balloon Valvuloplasty,
Cardiac Ablation,
Cardiac Catheterization,
Cardiac MRI,
Cardio Thoracic Surgery,
Cardiovascular Surgery,
Cardioversion Complex Coronary Intervention,
Device implantation (Pacemaker, CRT-P, CRT-D, AICD)
Education and Training
MBBS, LLRM Medical College, Meerut
MD, MLN Medical College, Allahabad
DM, PGIMER, Dr. RML Hospital, New Delhi
Location
India
Get Expert Opinion from Dr. Hemant Gandhi.