Dr Deepak Natarajan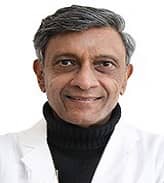 Main Speciality:
Cardiac Surgeon
Consultant , DM, MD, MBBS, 10 years of experience
New Delhi, India

Send Enquiry
About Doctor
Dr. Deepak Natarajan is an eminent and highly experienced Interventional cardiologist, whohas been working in the field for nearly 35 years. He is a renowned interventional cardiologist recognized for his groundbreaking work in percutaneous mitral balloon valvotomy with the Inoue Balloon catheter, and being the first cardiologist in the country to administer intracoronary and intravenous streptokinase in acute myocardial infarction.
He was the first cardiologist in India to administer Intracoronary and Intravenous Streptokinase in Acute Myocardial Infarction. His special interest includes Complex Coronary Angioplasty and Stenting (bifurcation, CTO, and left main disease), Percutaneous Balloon Valvotomy, Biventricular Pacing in severe Heart Failure, ICD Implantation and EP study.
Dr. Deepak was awarded fellowships with some of the leading interventional cardiologist in the world such as Prof MasakiyoNobuyoshi of Japan, Prof Gary Roubin of USA, Prof Robert Greenbaum of the UK (special interest EPS).
Dr Deepk Natarajan also has the distinction of serving as cardiologist to Two Prime Ministers and one President of India, numerous Cabinet Ministers and Chief Ministers. He was also appointed cardiologist to H.E Mr Nelson Mandela by the Government of India.
Specialization
Complex Coronary Angioplasty
Stenting (bifurcation, CTO, and left main disease)
Percutaneous Balloon Valvotomy
Biventricular Pacing in severe Heart Failure
EP study
Education and Training
Location
India
Get Expert Opinion from Dr Deepak Natarajan