Dr Bhaba Nanda Das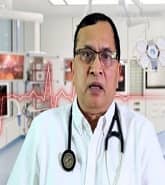 Cardiac Surgeon – Dr Bhaba Nanda Das
Main Speciality:
Cardiac Surgeon
36+ years of experience.
Qualifications:
MBBS, MS & McH.

Send Enquiry
About Doctor
Dr.Das is presently working as the Chief Cardiac Surgeon (CTVS). He has about 30 years of experience in this field of specialty. Prior to this he was working as a Senior Consultant, Department of Cardio Thoracic Vascular Surgery (CTVS), All India Institute of Medical Sciences, New Delhi from 1984 to 1996.
His expertise includes CABG on beating heart, Aortic Aneurysm Surgery, Double Valve Replacement/ Mitral Valve Replacement /Aortic Valve Replacement, All types of Congenital anomalies & Intra Cardiac Repair. Till now performed more than 20,000 heart surgery and at present doing around 800 cases every year.
Specialization
Aortic Valve Surgery, Transcatheter Aortic Valve, Heart Valve Surgery, Implantation TAVI, Heart Valve Replacement, Corornary Artery Bypass Grafting, Heart Transplant.
Education
Location
India
Get Expert Opinion from Dr. Veenu Kaul Aima.