Dr. Arun Kumar Gupta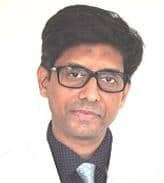 Main Speciality:
Interventional Cardiologist
Senior Consultant , DM, MD, MBBS, 19 years of experience,
Gurgaon, India

Send Enquiry
About Doctor
Dr. Arun Kumar Gupta is an accomplished Cardiologist with an experience of 19 years. He takes special interest in Coronary Angiography and Angioplasty, Peripheral Angiography and Angioplasty, Pacemakers, ICD and combo devices implantation.
He specializes in Interventional Cardiology that relies much on preventive approach rather than the much common invasive and remedial Cardiology while being an expert at invasive treatments simultaneously.
He is a Fellow and life time member of multiple reputed organizations across the world including European Society of Cardiology, Cardiovascular Angiography and Interventions (USA), Cardiological Society of India, API (Gurgaon) and Indian Medical Association.
Dr. Gupta graduated MBBS from Anugrah Narayan Memorial Magadh Medical College (Bihar, 1999) with MD in General Medicine from Ganesh Shankar Vidyarthi Memorial Medical College (Kanpur, 2003) and a DM in Cardiology from King George's Medical University(Lucknow, 2009).
Specialization
Angioplasty,
Endocarditis,
Coronary Angiography,
Peripheral Angiography,
Bypass Surgery,
Pacemaker Surgery,
Valvular Heart Disease,
Stenting,
Aortic Valve Surgery,
Congenital Heart Disease,
Pacemaker and device implantation,
Optical Coherence Tomography,
Complex Angioplasty (Left main, Bifurcations & CTO),
Cardioversion therapy,
Cardiac Resynchronization Therapy (CRT),
Athrectomy,
Interventional Cardiology
Education and Training
DM, 2009, King George's Medical University, Lucknow
MD, 2003, Ganesh Shankar Vidyarthi Memorial Medical College, Kanpur
MBBS, 1999, Anugrah Narayan Memorial Magadh Medical College, Bihar
Location
India
Get Expert Opinion from Dr. Arun Kumar Gupta