Dr. Anil Saxena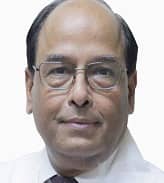 Main Speciality:
Cardiology – Interventional
Director , DNB, MD, MBBS, 27 years of experience,
New Delhi, India

Send Enquiry
About Doctor
Dr. Anil Saxena is an Interventional Cardiology with 27+ experience. His expertise lies in Electrophysiologic Study, Catheter RF Ablation of complex arrhythmias, 3D Mapping of Cardiac Arrhythmias with CARTO, Implantation of Permanent Pacemakers, Implantation of ICD, Implantation of Biventricular pacemakers (CRT), Implantation of CRT-D (Combo Device), Lead Extraction, and Coronary Angiography.
Received Dr. O P Goel Memorial Oration award, Shri G L Raturi Oration award, and B L Kapoor memorial oration award by Indian Medical Association. Under his credit, there are extensive national and international publications and actively invited as a guest faculty to talk about various heart conditions.
Specialization
Heart rhythm disorders
Unexplained fainting episodes
Unexplained heart palpitations
Patients with pacemakers and ICD
Education and Training
DNB, 1993, National Board Of Examination.
MD, 1985, Kanpur University.
MBBS, 1982, Kanpur University
Location
India
Get Expert Opinion from Dr. Anil Saxena